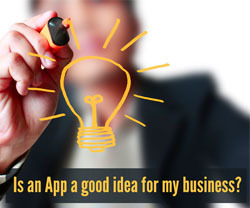 With the popularity of apps among consumers, many businesses face the dilemma of whether they should have an app or not.
In most cases, it's safe to say that you're better off having an app. The cost is lower than you may think, the maintenance doesn't need to take much time and it offers you and your customers a new channel to be in touch.
However, before you start creating your app, make sure you do it for the right reasons. That will definitely help you obtain better results.
I need an app for my company because everybody already has it
Yes, if your competitors have an app, it's easy to think that you should offer one too (and to be honest, you probably should), but you should also consider how good their apps are and how they are performing on the app stores.
They may have a top notch app with all the latest features, but if the customer isn't using it, it's somewhat pointless.
Download and analyze these apps to see if they are performing with the audience, if they are try to find a way to make yours better, if they are not, try to find another approach, make yours different. Learn from both your competitor's success and failure.
I need an app for my business to provide added value to your customer
One of the main reasons why people download business apps is because they provide an added value, something they can't find anywhere else.
Do your research, ask your customers if they would like to have an app and what they would expect form it. No one will tell you better what your audience wants, and needs than the audience themselves.
I need an app for my business to cultivate customer loyalty
If you are struggling with customer loyalty and don't know what else to do, an app that provides the aforementioned added value could be the key you're looking for.
A well designed, structured and useful app will always keep you in the frontline of your customers mind. Becoming you their first option whenever they need something you have to offer.
I need an app for my business to improve customer engagement
Social media is huge part of the way you communicate with your audience and the go to device your readers use to reach that content is their mobile. Having an app that integrates all your social media accounts gives your customers a direct contact channel with your brand.
This direct access can only increase their engagement.
I need an app for my business to build brand recognition
Everything we've previously discussed (added value, customer loyalty and engagement) is connected with your brand's recognition. The better you put these things into practice, the more recognition you will obtain.
People are eager to share with their friends and family what they like and what they find useful. If your mobile app is seen as something your loyal readers can share and that will offer some value, your app will have more chances at succeeding.
I need an app for my business to create a direct marketing channel
An App offers you new creative ways to reach your customers. Recently we've been talking a lot about push notifications and how useful they are to reach goals.
Let's say you have a huge discount in your store that will last just a few hours and you want to reach potential customers. A push notification will let you get to all your app users in a matter of seconds no matter where they are. They won't need to open their email or the app because they will receive their notification on their phone automatically.
Now that you know how important having your own app is, why don't you give 3D Issue's app platform a try, and start creating your own business app?
Written by Paul McNulty
Paul is the founder and CEO of 3D Issue