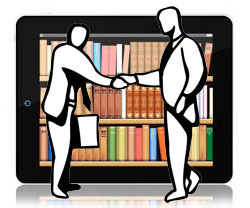 The emergence of the term hybrid publishing has been developed to describe the combination of traditional publishing with indie type authors and a bit of digital technology mixed in for good measure.
The publishing business is mutating. In recent years the sales of online books through sites like Amazon, the raise in self-publishing and the ability to print on demand has meant cosmic shifts within the industry.
The main factors in hybrid publishing are:
1. No fees upfront
Publishers generally offer advances to authors. In this case they don't and the book can enter the market place at a lower price. The authors earn higher royalties. The majority of hybrid publishers don't charge the author to publish, a welcome change for the author, as before they incurred all the upfront costs.
2. No pay checks
Everyone works under the premise that no one makes any money unless the book sells. What better incentive to work hard. So the author, editor, designer and marketer all work with this notion of endeavoring to succeed in order to reap any rewards.
3. Time
The time it takes for a book to appear on the market through hybrid publishing is much less than tradition means. In as little as one month a book can go to market, a dramatically different time scale from other publishing where after the book is written it may not be published for another year. With hybrid the fast paced marketing and launch of a new title on a market can be achieved in a more immediate way, bringing results sooner. This way audiences have less waiting times for new releases from their favorite writers.

With new experiments taking place every day between the written word, digital publishing and e-commerce, the perfect solution for everyone should evolve soon. What's necessary to create profit is the same as always; a great story and an audience to enjoy it. There is no doubt the implementation of publishing methods is progressing and people are getting places with technological advances.  The difference with the hybrid publishing model is that it empowers both authors and publishers to achieve results for themselves.
By Audrey Henry