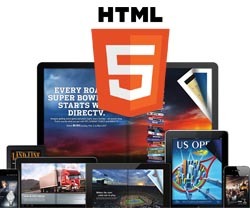 In a move that is sure to put a smile on publishers and developers faces alike , Amazon have announced a change to their appstore in relation to their pricing of HTML 5 apps. The web based applications were, until now, automatically set to 'free' when added to the appstore. This move follows on from the change in attitude last August by Amazon when they opened their appstore to HTML 5 apps for the first time.
This change in approach from Amazon offered developers a route into their appstore and also meant that they could be downloaded anywhere the Amazon appstore was available opening up a whole new marketplace for developers and publishers alike.
Read more on Native app versus HTML 5 app here.
In a blog released by Amazons Jesse Freeman, the monetization option for HTML 5 developers and publishers became a reality on Tuesday the 28th January when he wrote;
"Starting today, developers can set a list price for their web apps, giving them another way to monetize web content to Amazon Appstore customers in nearly 200 countries across the globe.
Prior to this update, web apps published to the Amazon Appstore were automatically set to free. In the latest update developers can now set a list price in specific currencies based on the local markets they're publishing their web apps to. This is great news for developers looking to publish their first web app to the Amazon Appstore, and the feature is now retroactive to all web apps that have already been published. That means existing developers simply need to log into their Developer Account to see an updated "Availability & Pricing" tab with the option to charge for the app."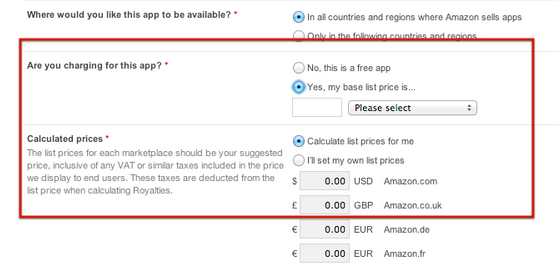 * Above: The new option for setting pricing for HTML 5 apps in Amazons appstore
This is great news for publishers and developers of HTML 5 apps and is clearly a sign of how Amazon sees the market progressing, not only is this a boon for publishers and developers but also Amazon themselves as they look to take advantage of the rising popularity of HTML 5 apps and the advantages they hold.
This is most likely due to the success that Amazon is seeing with web apps on its appstore and this has in turn led to the retail giant reviewing its position. In a recent review by Reuters it was reported that Amazons share price had fallen by 9pc while Google shares had risen by over 4pc. Incidentally, the Google Chrome Web has allowed developers to charge for HTML 5 apps for some time now, a fact that may or may not be linked to Amazons decision.
Read more on iBook or digital magazine HTML 5 app? Here.
Below are some interesting facts and figures supplied by Mobile Marketing Universe pertaining to HTML 5 and the advantages they hold within their flexible confines.
• HTML5 is meant to work seamlessly across mobile platforms and browsers.
• HTML5 web apps can be installed from the Web as icons on your home screen across any phone.
• Developers like HTML because it is a familiar language to most of them.
• HTML5 apps don't have to share revenue with Apple, Google or Microsoft
• Viewable across multiple tablet and mobile devices, not limited to just the iPhone and iPad
• Publisher retains control and subscriber data
Read more on how to create HTML 5 web app using 3D Issue here.
Interested in utilizing the many advantages of HTML 5?
Why not try the free, fully functional trial of 3D Issue today and take your first steps into HTML 5 flexibility ensuring your content is available through all devices, an essential component in today's device laden world.

By Charlie Gallagher