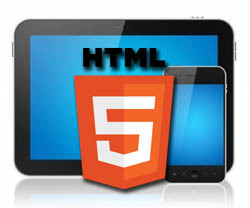 Firstly what is HTML5 and why is it important to publishing?
HTML5 is a markup coding language that allows readers to be able to actually see things on a web page. HTML4 was released in early 2000 and had been the last major realise by HTML up to the release of HTML5 in September 2011.
There was major development on the web between the release of HTML4 and HTML5. Because there had been no major release of HTML in a decade, web integration, such as video integration, had to be done through plugins such as Adobe Flash player, RealPlayer, Windows Media Player. What HTML5 has allowed is to naturally integrate Videos and other files types.
In April 2010, Apple announced that it would no longer allow the use of Flash for its mobile devices and Google Android also followed suit. What this meant is that HTML5 has become the leading coding language used by Mobile devices and is vital for publishers to publish their content in a HTML5 format.
3D Issue is software allows publishers to convert their PDFs into digital publications that can be published on a publisher's website. Once a publication is built using the 3D Issue software, the publication will output in both HTML5 and Flash.


If a reader accesses a publication using a PC or a Mac, the publication will open in the Flash format. If a reader accesses a publication using a Mobile device (iPad, iPhone, Android Tablets, Smartphones etc), the publication will open in the HTML5 format.
To view samples of publications created by the 3D Issue software, please click on the following link; 3D Issue samples. These samples can be tested across devices to view the different formats.
To try out the 3D Issue 14 day fully functional trial, please click the following link; 3D Issue trial
By Derek Kelly