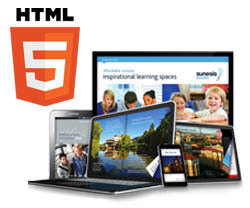 Digital publishing with 3D Issue provides a seamless access to content across devices all via the same link. Readers can access 3D Issue content in a number of ways via convenient links. How might 3D Issue customers distribute their publications?
Some options include:
•   Via e-mail campaigns
•   Via Twitter
•   Via their Facebook 3D Issue App
•   Via 'shelf-like' pages on their website
To ensure that readers can access their content across devices 3D Issue ensures that Flash and HTML5 sources are available all via the same link. 3D Issue was the first to offer a true HTML5 conversion back in 2011 which has been built on since.
The question posed is HTML5 or Flash?
The response is a rounded one – we say "why not both?"
Whilst Flash is facing a demise across mobile devices flash plug-ins are still omnipresent across the worlds browsers meaning for compatibility Flash provides peace of mind. Many of the world's largest sites still require Flash. If you can't beat 'em join 'em….
In saying that the lack of support on (famously) Apple devices marked the death knell for Flash in some people so HTML5 is the ideal solution. HTML5 is responsive provides a less resource hungry environment and provides a host of solutions. For key features of HTML5 see our blog here.

Not only iOS but Android too announced their strategy for Flash going forward with their final updates being a security one only – surely we can abandon Flash right now?….not so the language is not actually fully finalized as yet. The people in the know on this the www are in the progress of finishing it of but this has not occurred yet – until then and once the worlds browsers are all HTML5 compatible. Flash will be around for a reasonable period yet!