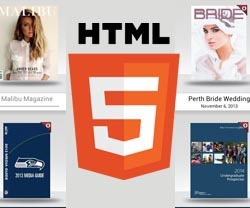 The plethora of devices that now connects us to the internet is truly staggering, spearheaded by the soaring popularity and adoption of smartphones the internet and its inherent capabilities has reached far into many people's lives. This is where the crux of the situation arises; there are now so many different devices from a multitude of backgrounds that it can be hard to cater for them all without each platform requiring their own separate app.
Step forward HTML 5 and HTML 5 apps
HTML 5 apps offer a solution to this potentially labor intensive process of creating multiple apps for various platforms by the supplement of a 'one for all' solution. The future of publishing depends on the ability to cross all platforms with the added capability of interactivity; these are features which are ensconced within HTML 5 apps.
It is no secret that smartphones have literally exploded onto our horizon, they are everywhere, devices such as tablets are following closely behind and are being adopted at an exponential rate. The days of the internet being accessed solely by the use of PC's in the home are long gone, the ascendancy of the smartphone and tablet has made it essential for businesses across the spectrum to be available in whatever format the consumer happens to be using. The introduction and expectation of the growth of 'smart gear' in 2014 is expected to expedite this need to new levels.
Responsive design
HTML 5 apps also have the ability to be 'responsive', they can target different devices through their ability to resize to whatever the screen size of the device the consumer happens to be using at that time, this is absolutely crucial when you consider how many options this could entail. The ability to detect what size of screen the consumer is using and adapt to fit could prove to be a vital factor in the months and years ahead.
The fact is that there are more mobile devices being sold than desktop PC's so the need for responsive design becomes paramount; a recent report by Forbes highlighted this very fact when it stated that by 2017 87% of connected devices sold will be either smartphones or tablets. If you take a moment to digest the enormity of that statement then you start to get a picture of things to come.
What if, for example, you are not set up through HTML 5 apps to reach across all platforms? This could potentially mean that a sizeable portion of your potential market has to pinch and zoom every time they try to view your data. What if your competitor is using HTML 5 apps and the consumer doesn't have to pinch and zoom due to the apps ability to resize to fit their device? I think you get where I am going with this.
Audio and Video
Audio and video are widely predicted to have a huge year in terms of content sharing (especially video), these are formats which are both supported by HTML 5. Greater smartphone penetration supported by faster networks such as the ever expanding 4G networks all points toward video superseding any other type of content in 2014.Video content will be a pivotal facet of publishing technology in 2014, the numbers involved are truly mind boggling, if businesses can harness some of these numbers then it could prove to be fruitful twelve months for all concerned.
It is within your businesses best interests to be available across all platforms, only by doing so will you give your company the best possible exposure and in turn the best possible chance of prospering in the connected world.
Try the HTML 5 empowered fully functional trial of 3D Issue today.