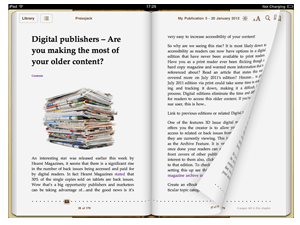 Following on from the previous blog post How to publish your content to iBooks…. Part 1: PDF to iBooks there's also another great tip we wanted to share with you. This tutorial shows you how you can convert your blog content or RSS feed content into a epub that can be read with Apple iBooks and on eReader devices such as the Kindle.
Perhaps you have a blog that provides category specific content, these categories often have their own RSS feeds associated with them. Take this blog that you are reading now, it has RSS feeds for categories such as 'Apple iPad', 'Going Digital', 'ePublishing' and many more such as one RSS feed for the main blog content. If you have content online in a blog or RSS feed then this tip could be very exciting….
Here we are going to take this Blog and using the tool 3D Issue Hubs which is packaged free with 3D Issue we are going to convert the blog content into an epub which we can then read via the iBooks app or even with our Kindle, then allow our customers to download and read on their iPad, iPhones and eReaders.
1) Select the feed or feeds you want to convert
Open up 3D Issue Hubs which comes packaged along in the 3D Issue suite. Once here, in the CONTENT tab. Click the '+'  sign and enter in the RSS feed. Tip: if you are not sure of the exact RSS feed you can click on the search button and type in the name of your blog to find the feed.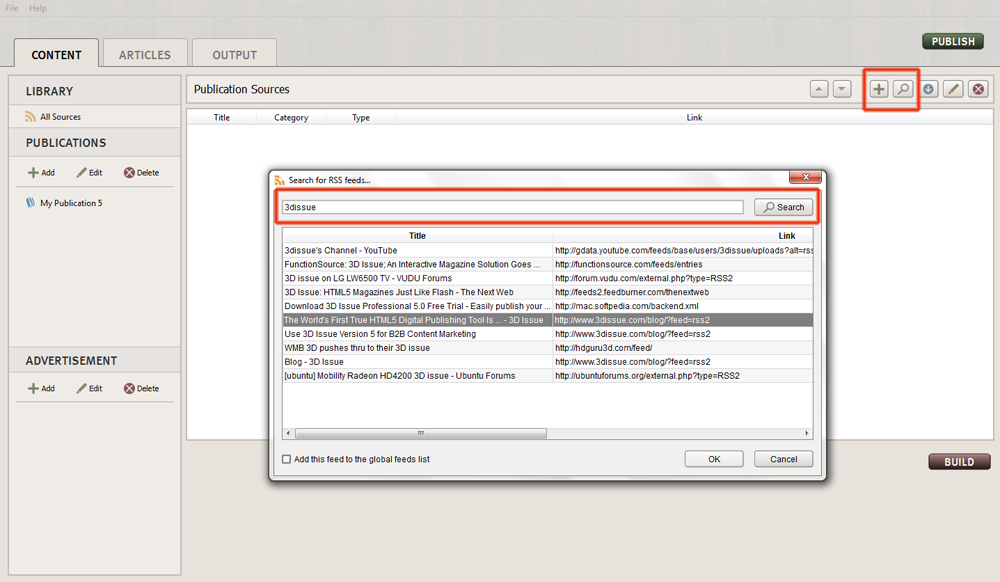 2) Click Build
Still in the CONTENT tab, click on 'Build' this then goes off to the sources you defined in the first part, the software collects all the content and images from these feed(s).
3) Any edits?
Are there are articles you do not want to include in the epub? If you do want to remove any, click on the ARTICLES tab and edit or remove articles.
4) Complete the build process
To complete the build process and get the output epub file, head over to the OUTPUT tab. Check the EBOOK option from the left side and ensure both the epub (iPad iBooks) and Kindle versions are checked. Then click PUBLISH on the right.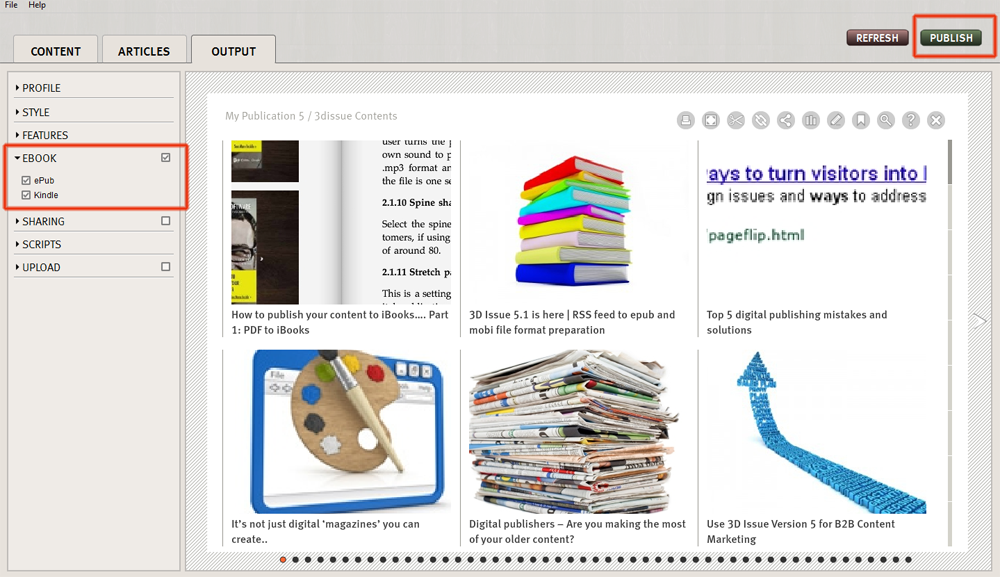 4) Download to your iPad, and upload to your site to allow your readers to download
Once the software has created the epub and kindle files, you can access these from the message that appears: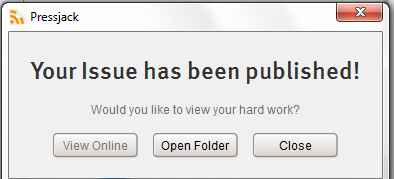 Locate the 'ebook' folder, you will then see the two files; epub (for iPad) and mobi (for Kindle). Open iTunes on your computer, connect your iPad and drag and drop the epub file from your computer into the 'Books' section in iTunes. You will now see your publication in iTunes, and when synced with your iPad, you can see the publication in iBooks: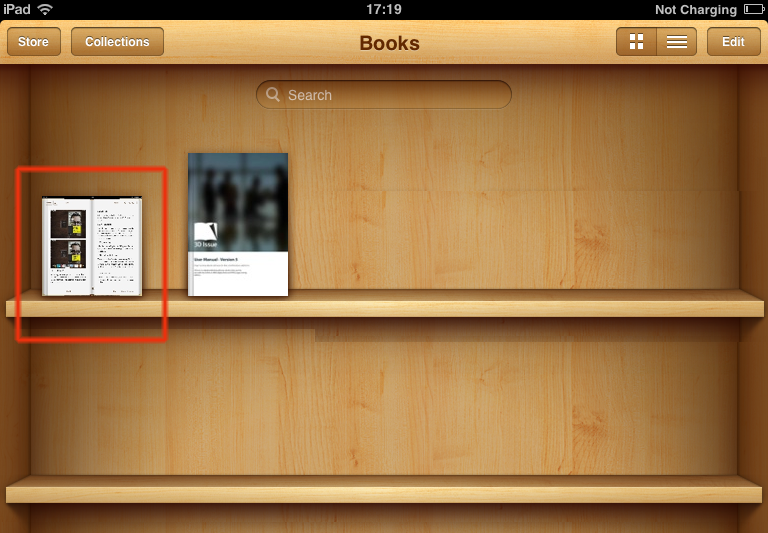 and here is the publication on the iPad available for reading in iBooks: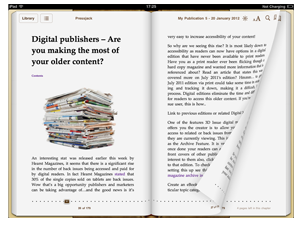 Try it out for yourself!
Download the 3D Issue trial where you can follow these steps to create your own book for iBooks from your own Blog or RSS Feeds with 3D Issue Hubs.
You can of do this tutorial, upload the file to your site to allow your readers to download a epub of your blog or RSS feed to view on their iPad through iBooks – and remember Extra
Tip: because this is in iBooks, the reader does not need to be online to view once they have downloaded.