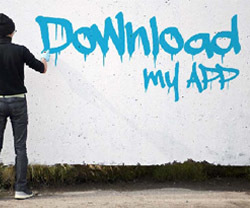 Assuming you've already made the perfect app that's both useful and engaging, we'll try to focus on how to market your app while managing to control expenditures and keep them to a minimum.
First of all, you need to understand how competitive the mobile app market is. According to Apple, developers are submitting more than 1000 apps per day to their online app store. In total, there are around 4 million apps available on all major online app stores.
Don't let this scare you and give you any doubts regarding the mobile industry and your involvement in it. If you know what your audience wants and your app provides that, you'll be able to reach them using a good strategy.
How to market your app using paid ads
• Promote via AdWords – There are various options available, but the usage of ad networks is clearly a must. We suggest AdWords because it offers audience targeting, cost-per-click budget and keyword based campaigns. A great deal of the advertisements you see on your mobile while surfing the web are placed there by paid ads networks and there's a high probability this network is operated by Google. You can find out more about Google's AdWords mobile advertising here.
• Build your social influence – Social media, especially Facebook, is great for paid advertising campaigns because it offers a platform where you can easily test and customize different ad copies. If you want to go full social (and it's advisable you do), create an app that will be available on Facebook.
• Featured placement on Free App networks (AppGratis) – Don't think about the profit when you start promoting your app. In the mobile app world, building awareness is what matters at first. That's why submitting your app to Free App networks like AppGratis can be worth your while, especially when you operate on a tight budget.
How to market your app using community outreach
• Create a cross-promotional network – If you are an authority in your niche or at least have an established presence on social media, it's smart to create a partnership with a successful mobile app business where you'll cross-promote your apps. A good real life example is the partnership between TinyCo and Chartboost.
• Make your app device/carrier specific – One easy way to reach out to industry heavyweights like Samsung and Apple is to create an app that is specifically designed for one of their devices. You may tighten the scope of your market, but you'll also increase the chances of being recognized by some of the biggest names in the industry.
• Organize events – It's highly probable there are some influencers in the niche you operate. Don't hesitate to invite local experts to events you organize in the area and give them some freebies so they can promote your app to their followers. Add a dash of contests and prizes for the audience that will attend the event and you have the recipe for success.
What's next? Start building your own app or see why you should offer a mobile app to your readers if you run a digital publishing business. If you have any questions, feel free to write a line or two in the comment section or send us an email to info@3dissue.com.