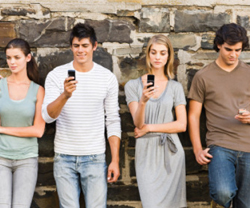 Knowing how to market to Millennials is a complex philosophical issue. What is more important in one's life, religion or education? ethics or professional success? patriotism or social status?
These are only a small number of questions that every human asks themselves, but the choices you make are probably affected by the global perception of what's right for your generation.
It has been statistically proven that Millennials and non-Millennials have different priorities. Here's the full chart, courtesy of BCG Perspectives: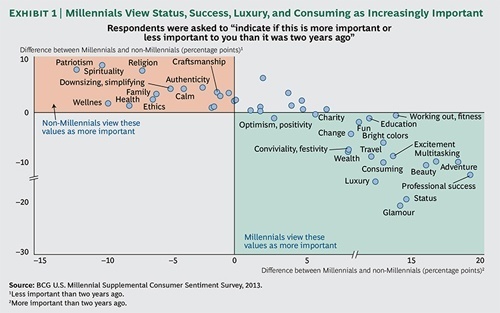 Understanding how Millennials perceive the world will help you better understand how to successfully reach this significant segment of your digital audience.
Gender-based interests
Although Millennials differ from other generations when you dig deep into their interests portfolio, it's interesting to see how there's a noticeable gap in general preferences between the two genders.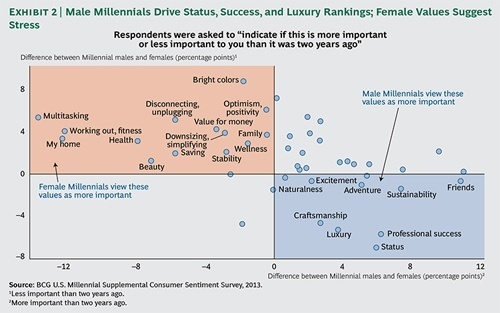 In other words, male Millennials seek for a straightforward and secure life where they enjoy professional success and have time to spend with their friends while female Millennials tend to place family in the first place and try to get as much as possible from life.
First digital native generation
Millennials are the first digital native generation. We wake up going through our Facebook feed, we post pictures of our food each time we go to a restaurant, seek for Google's help every time we face a problem, check reviews on Foursquare before we even enter a building, and our smartphones never leave our hands.
Instead of wondering how we got to this point, you should learn something from this situation and implement it to your digital marketing strategy.
• Millennials rely mainly (if not solely) on the Internet for information
• Millennials are active on social media every hour of the day
• Millennials use apps like nobody else does
• Millennials keep an eye on trends
• Millennials do all these things on their phone or tablet
3.Everything happens faster than before
With the evolution of the Internet, information became more accessible than ever, which resulted in the increased fluctuation of all global markets.
If you could place your money in a bank and wait for 20 years to get something out of it in the past, today you need to think dynamically about your investments because you never know when the next financial crisis will hit.
This is a single example where you can see how Millennials feel today. They don't trust the media when it comes to choosing where they'll put their money or what they'll buy the next time they go to Wallmart, not anymore.
Instead, they'll ask their friends about a certain brand before they make a purchase or read a review on Yelp before they go to the local dentist.They check their phones for the latest news and updates, in most cases social media and apps are their first and most important point of contact with brands and companies.
You should see this as an opportunity to develop a sound content management strategy and to make building a better relationship with your Millennial audience, your primary objective. Inbound marketing is already taking the lead and chances are outbound promotional techniques will become obsolete sooner rather than later.
Creating an app that keeps you close to your audience and making sure that you are active on social media are one of the most efficient strategies right now.