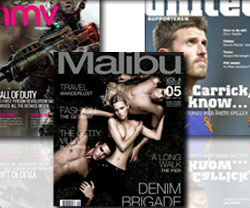 Some of the biggest benefits of the Internet are the increased ease of access to information and the instant communications. Such is the importance of these factors, that social relations have changed to the point that nothing have to do with those of 20 years ago.
Since companies depend on their customers, and customers are people, it was inevitable for them to be affected as well. Over the years, brands have been adjusting the way they market their products and services.
If in the past TV and Newspaper ads used to be enough to dominate the market, today you need a much bigger effort if you want to be competitive.
Consumers are much more demanding now, they expect everything to be customized to their liking. Knowing your audience is not an option anymore, it's a requirement. If you are trying to figure out how to market a magazine you should start by asking the question "Who am I marketing this for?" It may sound bizarre at the beginning but it's actually becoming a standard in the world of digital marketing.
Outbound Marketing is Becoming Obsolete
The days of "push advertising" when brands tried to shove their products down their audience's throats are over. The reason why people today won't stand this type of behavior is again the World Wide Web.
Launching a product with a premium price and stating that it's the best in the market in a flashy add won't be accepted as truth anymore. People need to know why your product is the best, how does it compare to the competition and recognize a clear added value before they make a purchase.
The average consumer can find about the product you're offering on some of your promotional channels, but having the power of the Internet at the touch of a button makes them more volatile. If they recognize a better value for their money on another brand, they will switch without giving it a thought.
Inbound is The New Black
To avoid people finding out about your product to switch later to one of your direct competitors, you need to start employing a powerful inbound marketing strategy.
Inbound marketing is in its essence one single idea "Build a relationship with your audience, create a connection". This is achieved by creating a clear added value through the user's favorite communication channels, which will ultimately improve your brand recognition.
Start creating content that offers value to your customers without asking for anything in return. Your overall goal when using an inbound marketing strategy is to build a loyal base of advocates.
To better understand the concept, let's go through a brief example.
If your magazine is about an NBA fantasy basketball league and your main audience are middle aged men that have their own source of income and are very active on Facebook, you can create weekly podcasts with in depth analysis about trending players, add them to your magazine, and then promote your magazine app on the social network.
Connect Your Magazine
You should consider your magazine more like a product and less like a tool. All the promotional activities you undertake, including inbound marketing tactics, act as tools that will help you build a loyal base of followers.
Once you have your audience make sure you keep showing them how valuable your magazine is, why it'd be worth buying it and why it's better than those of your competitors.
As the level of awareness about your products raises so should the value you offer to your potential customers.
Something you'll need to make your magazine a part of your inbound strategy is a responsive software. 3D Issue has a flipbook software that perfectly integrates with the app platform. With them you can create as many digital magazines as you want and publish them in your own app. For more information you can send us an email to info@3dissue.com.