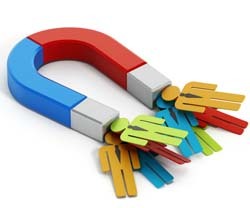 The online market gives you the opportunity to sell to people all across the world 24 hours a day.
If you are dedicated to your business you probably spend the majority of your time thinking of new ways to engage with new customers.
In this blog I'm going to show you how you can attract new customers online.
Remember, your goal is to help clients find you by raising as much awareness about your brand as you can.
How to get new customers
Analyse
Before you start marketing you have to understand the basics, that is knowing your customer. Identify your ideal customer and research and find out everything you can about your target market. Know who your potential customers are and think about how you could engage or get in contact with them.
Take a look at your competition and what their strengths and weaknesses are and if you can learn from any of their mistakes. It's important to know what you want the end result to be and to have a plan if anything unexpected was to happen.
Try something new
Maybe you've been on the market for a while now but your number of customers aren't increasing anymore, you've reached a plateau. Well, then you need to step out of your marketing comfort zone and do something out of the ordinary.
Research and see if you can find free sources of advertising, take a look and see if there is any social media sites that you haven't already joined and that could be useful for you and oppen an account, this way you are not just reaching out to users who are already your customers but users who have yet to discover you.
Feedback
Ask your customers to give you feedback. Ask them to write reviews that you can share on your site or with the public on social media sites. Ask your satisfied customers to spread the word on their social media accounts so that their followers will find out about you too.
Blogging
Starting a blog is the perfect way to find new customers and will also allow you to market your product or service.
Blogging helps drive traffic to your site, it can convert your traffic into new leads, gives your company a voice and allows you to talk about the benefits and uses of your new products or services letting your brand's personality shine.
Checking your blog traffic will also allow you to keep track of your readers and what they prefer to read.
Get active and stay active
Interact with the people who follow you. Subscribe to different blogs, comment and share posts. More importantly, create content that you know your target audience will want to see.
Bear in mind, that now more than ever there is no point in being active and interact with clients just once a month, it has to become a routine for you to write a blog, post on Facebook or send out a newsletter.
Be cautious about being too overwhelming though, you need to find a happy medium between not interacting at all and being overly active.
Digital Publishing
Our PDF to digital publishing software has been developed so any publication you create is available on all devices. Using tools that let you reach anyone, anywhere no matter the device they choose or the platform they prefer, will help you spread your word faster. (Try the 3D Issue software)
Content aggregation
Keep your audience in tune with your activities, promotions and news with a hub. A hub is a great tool especially for digital marketers and content publishers who want to reach out to a wider range of an audience.
Publishing to apps
You can reach more customers on the app store by making your own branded app. Having an app puts your company at the reach of a finger and keeps you close to your customers.
If you publish your content to your app including your social activities, YouTube and Vimeo videos along with content curation from trending news and Google alerts, and send notifications through it about new releases, products, news or promotions, you will be increasing your chances of getting a better response.
If you have any questions or want more information please, send us an email to info@3dissue.com
By Georgia Keys