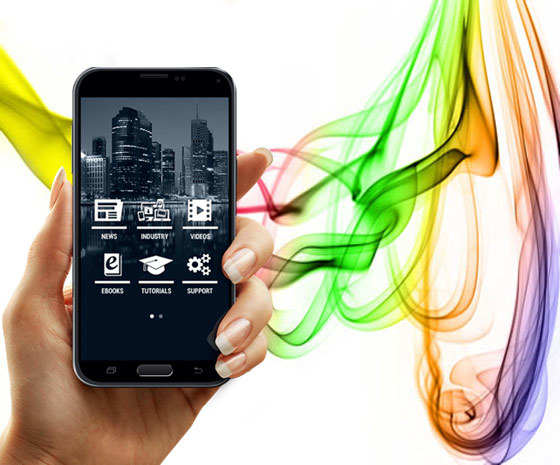 Whether you are designing your first app, creating a new one or rebranding a current mobile strategy your customized mobile app should gain priority.
In today's blog we will outline some simple steps on how to design an app with 3D Issue with no code involved. It's so easy, everyone can do it.
As most of our Flipbook and Content Hubs customers are publishers and marketers, we knew we needed to develop an app platform that was user-friendly and as easy to use as our other software as the majority of our clients were not coming to us from a technical background.
The fact that the dashboard has been designed around user experience and created to give the user confidence in a sometimes overwhelming app world gives our customers' satisfaction. They tell us they didn't feel intimidated at all and felt relieved that the process was so straight forward while still offering lots of freedom of creativity for design within the apps they were creating.
To start creating your own app, click here.
1. First of all Name your app.
2. Add the content sources you want in your app.
3. Design: In the customization tab you will be able to modify and personalize the appearance of your app so it fits your brand. Make sure you have your images ready. You can alternate between the Mobile and Tablet view to see how your app will look like on each type of device.
You can design almost every aspect of your app if you so desire.
Under the Homescreen you can change the mobile button design, button padding, button shadow, button alignment, background image-Portrait, background image-landscape, background colour, text colour, display on start.
Next you can design the sections within your app; you can name the sections, choose the color of each section, add your own icons; we advise the use of a .png file, under 5MB and 100 x 100 px in size.
Under sections you can also customize text color, background images, background color, opacity, and line divider color. You also a wide range of design options in the external webview, menu view and article view sections of the app as well.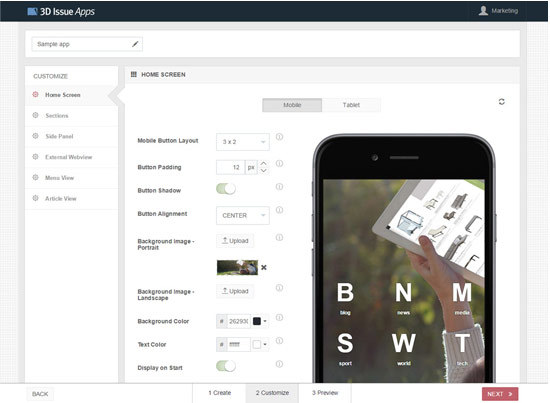 After these design steps you can go on to preview your work, and rearrange designs and appearance until you are completely happy.
I hope today's information has enlightened you as to just what is possible to achieve. You don't need to be an app developer to attempt this. Try it today! Feel free to contact info@3dissue.com for any additional questions on functions or pricing you may have.
By Audrey Henry