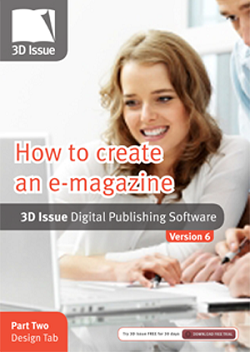 An effective strategy to reaching your target digital is adding new elements such as links and rich media to enhance your e-magazine. In our blog today, we will provide you with some key resources on how to create links and rich media using the 3D Issue software.
To have a first-hand experience, you can download the trial version to use your own content; put the procedure into practice and see results to clarify any doubts.
3D Issue software provides an intuitive user interface separated into three tabs: Content, Design and Output. In the Design tab, you will find a range of the interactive features at your disposal – all you need is creativity and a desire to explore new features to create an engaging e-magazine.
In the Design tab, 3D Issue users have the possibility to:
•  Add interactive options for readers including notes and bookmarks
•  Embed movies and audio tracks
•  Use a company's logo, background, colours
Click here to access the 3 easy steps to create an online magazine

Just click here to access these video tutorials. One of the most effective ways to learn how to create links and rich media in your magazine is viewing a step by step procedure on:
• How to customise the skin of your e-magazine
• How to integrate advertising into your digital edition
• How to add videos, audio, e-mail and web links in your e-magazine
We hope the resource materials can assist you in the process of enhancing your digital editions, please drop us an e-mail at customerservices@3dissue.com for any queries, comments or ideas.
By 3D Issue