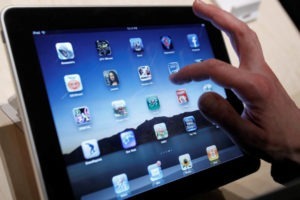 An iPad app icon can allow your readers to avail of quick access,  full screen version of your 3D Issue Digital edition from their iPad/iPhone home screen.
Let's look at how to create an app icon for your digital publication, Just follow our simple, easy step by step guide to create your app icon:-
You can create your own iPad app icon through many applications; Axialis is one of the applications gives you a step by step guide in creating your app icon. After creating you are ready to attach this to your 3D Issue project.
•  Click on 'Options' from the top toolbar
•  Select ' iPad / iPhone App': You will be presented with a pop up window showing the default 3D Issue App style icons
•  Select 'Change iPad icon'
•   Browse for the icon you created and save
•  Complete the publication by hitting 'build' button to upload the files to your website including the icons.

When your readers view the publication on the iPad they will automatically be presented with the HTML5 web version, there is then a prompt on this that directs them to add the publication to their homescreen. When the reader selects this your branded app style icon will be on the iPad, they can then tap this to launch the fullscreen HTML5 web app.
We've also created a video tutorial showing you this,  click here to view.
By 3D Issue