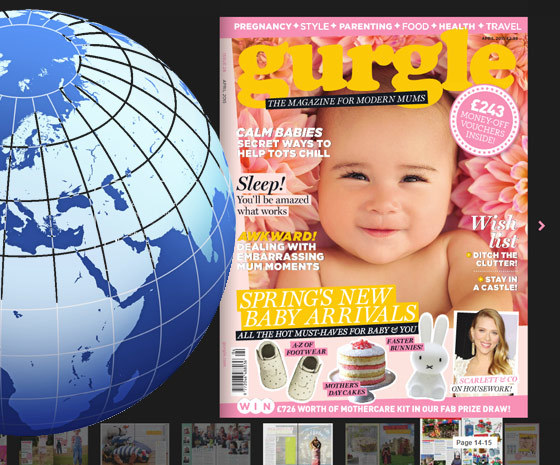 In today's blog we will list and describe some useful insights into how you would go about creating a magazine with today's print and digital technology in mind.
Size: Decide on your size, for newsstands pick a standard measurement. If your magazine is landscape in shape it may not be tall enough to be seen in the mix of various magazines.
Contents: Gather together your articles, images, styles and front cover and so on.
Advertising: Gain revenue to fund your magazine through advertising and sponsorship. Adverts can take on a whole new dimension in a digital magazine, they can have video for promotional descriptions, runway shows and product demonstrations. They also can have the added benefit of audio, video, weblinks, shopping carts and much more. Adverts in eMagazines can lead to direct sales and the software can allow publishers to track which ads are being the most effective.
Print run: Sending your PDF to the printer can be a daunting experience. Hire a proofreader to ensure no mistakes or typos appear in the final printed copies. Prior to printing ask for various quotations from a range of printers on a number of different quantities, paper types and finishes.
Digital version: Creating a digital version of your magazine means you have further options of distribution, adding interactive features that can reach the public on iPads, tablets, eReaders, mobiles, MACs and PCs. The handy thing about digital is if you need to make to make a change in the magazine, or you notice a typo, simply make the change to your PDF in the digital publishing software and build and then the link you have shared will update.
Distribution: Printing, posting and courier charges for hard copies can be expensive. With your soft copy or digital magazine you have lots of inexpensive options, you can share the link to your magazine via email, social networking sites, or on websites. Once you purchase digital publishing software you can create endless editions for no extra charge.
Subscription models: Your readers can avail of your digital version for free of you can charge to do so if you wish. See in this video tutorial how easy it is to add a user login to you magazine. You can set this up so only readers that have paid or bought a subscription can log in.
Magazine mobile apps: Publish your magazines to an app without any coding. The 3D Issue software allows you to create and publish your own native Apps for any iOS or Android device.
If you have an idea for a digital magazine you could like to create, but still need a few of your questions answered – please do not hesitate to contact info@3dussue.com.
By Audrey Henry