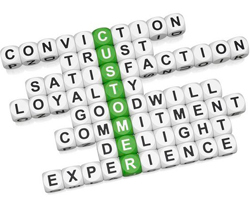 If you follow our blog, you already know what makes an app successful. In that blog we mentioned how important it is to pay attention to the user and showed you briefly how to build customer relationships using your app.
Today, we'll dig little deeper into the subject and see what are some of the exact ways to improve the relationship with your customers. I'll also show you real life examples of corporations that managed to improve their user experience through their mobile app.
How to build customer relationships with your app
• Have a long-term strategy – One of the most frequent mistakes companies make when approaching the creation of their app is having a short-term mind-set when planning the project. This explains why a good number of apps manage to build a significant user base campaigning and including freebies in the full offer, but fail to achieve constant growth.
Lesson: Think beyond the initial "made you look" phase.
• Provide added value – This phrase sounded like a marketing mantra up until now, but it's really that important. Creating added value should be a huge part of your long-term strategy.
The phases of creating an added value:
1. Solve a problem
2. Create an easy way of communication
3. Always have relevant information
4. Use responsive content across all devices
5. Keep a unique voice
6. Engage with your customers
Lesson: Your app is more than a landing page, it is a whole new communication channel.
• There's something more than added value though – Customers will always expect more, and it's ok. You provided value and, more importantly, made it beyond the "made you look" phase. Now it is time to customize your app based on the customer's preferences you've collected through the analytics platform of your app.
Lesson: Start using data analysis from day one.

How to build customer relationships with an app…
• Facilitate the experience by Lollapalooza festival – The organizers of Lollapalooza, festival happening across six countries each year, added an NFC chip to the official festival wristband. The chip was connected to the festival mobile app and allowed the audience to purchase any item by just showing their wristband to the cashier.
• One thumb app by Torchy's Tacos – Texas-based fast food restaurant noticed how their customers order tacos while they are travelling. That is why they've designed a simple app allowing their customer base to make an order with a single touch without having to give their credit card info, they will pay the goods when they arrive.
• Self-service check-in by Hilton Hotels – Checking in at a hotel can be a nightmare experience for travellers, so having a simple app that will allow you to pick a room and pay the deposit while you are in the hotel's lobby sounds like a real solution.
• Sit or Squat by Charmin Toilet Paper – Customers rate public restrooms, and Charmin Toilet Paper is here to bring portable toilets where necessary. They even started a successful campaign "Don't pee in the sea". Talking about building brand awareness and customer relationship with one hit.
• More than business- eBay's "We're eBay" app (Android, iPhone), tells the story of all the people involved in the company be it employees, sellers, buyers or givers. The app shows the human touch of one of the biggest brands in the world, making it easier for the public to relate to a company that otherwise could be perceived as cold.
You can start creating your own app with the 3D Issue App platform, and if you have any questions you can send us an email at info@3dissue.com.