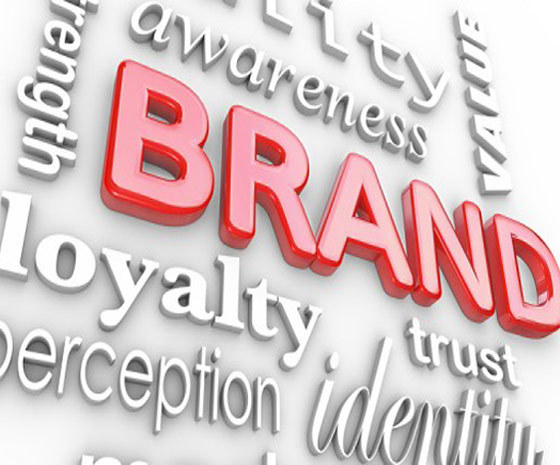 44% of US millennials consider themselves loyal to the brands they buy according to Factbrowser. If your brand hasn't built a name for itself, it's going to go nowhere.
The reason these millennials are loyal to a brand is because that company has built a strong relationship with that customer and has, in the customer's eyes, become a reliable brand name. Your product could be the best in the world, but nobody's going to buy it if they don't know about it or most importantly, they don't know about your business. Building a good brand name for yourself is a challenge but vital if you want to succeed in the online business world, not everybody will agree with your ways, you just have to think who's opinions you value most, the answer is your customers.
As we've already recently written a blog on the 4 top secrets on how to build your brand which you can read here. I'm going to include more tips on how to build your brand but throughout these tips I will also be including how to be reliable to your clients; expanding ideas upon how you can build a secure bond with them so they know they can trust you and your products.
Website
One of the most obvious steps to building your brand name is creating a website, if you haven't done so please do. Try creating a mobile friendly site, as we go further down in the blog we will be talking about social media and 71% of users access social media from a mobile device, research from this source states. So have a responsive site that can resize to suite all devices.
If you do have a website, clean it up, there's always room for improvement. Features your website must have are:
1. Ease of navigation
2. Colorful to a certain extent,
3. Nicely designed,
4. Your brand name the center point along with a logo if you have one.
5. Include important content that relates back to your brand and where they can purchase your product, and an information section of places where they can contact you such as an email.
It's vital you leave contact information so customers can get in touch. By getting in touch they can ask questions about your business and learn more about you. You're building a stronger relationship with a person who could become a customer, this bond will help the client realize you're brand is trustworthy and could become a returning customer.
Using the visuals
If your brand is new to the market and you want it to do well and do as well as other brands who have been around longer, you're going to have to think of ways to rise to the top creatively.
Studies show landing pages that included videos see an 86% increase in conversions. Because having an image or video is way more effective than an extract of writing, marketers choose to create infographics or promo videos simply because it catches an audience's attention quicker and for longer than written text. As well as catching attention, your audience will see a great effort made by your brand name and will see you as more reliable, they'll see you more of a professional company because you've included images, videos or even a bit of audio. So if you want to build your brand take advantage of the different ways of visualization.
Create a Flipbook, Hub or Mobile App complete with branded background, logo, videos and image galleries to re-enforce the power that visuals can bring to your branding and plus at the same time you are creating content that has the wow factor to viewers on all devices.
If you think visuals are the way forward for your brand and you believe it could make a great difference in your marketing technique I would strongly suggest reading one of our blogs on online video marketing questions answered to get a better understanding.
Social media
I'm not going to talk through the importance of social media, I assume you've realized all businesses are making accounts and using them to their advantage. I'm just going to let the statistics speak for themselves. All I will say is if you haven't made a social media account for your business have you been living under a rock?
• 60 percent of 50 to 60 year olds are active on social media. Source
• 72% of all internet users are now active on social media. Source
• 52% of marketers found customers via Facebook. Source
• 98% of fashion brands use Instagram, up from 72% in 2013. Source
• 95% of beauty product brands use Instagram, up from 78% in 2013. Source
If you really do have no idea about social media, read this blog on social media strategies.
Make the connection
As I've said in previous blogs, if you're still finding it difficult to market your brand or you've already been following steps similar to the tips above, you can always turn to the people of the web.
Reach out to bloggers, YouTubers and ask them to talk to their viewers about your brand. As well as being accessed and getting feedback from people who have been using the web a long time, you're reaching their audience and becoming reliable to them. Getting an endorsement from a highly respected expert can be invaluable to your brand. If a fan of a blogger sees your brand name being mentioned in one of their blogs they're going to see it as 'If he/she likes using this product, I want to use this product', by making small connections you can reach a fan base and attract more clients.
Building a relationship with a customer is very important, as you learned from the first statement of my blog it pays off being a brand someone can count on. If you have any questions about setting up a Hub or a Flipbook, branding or even creating an app for your business contact us at info@3dissue.com.
By Georgia Keys