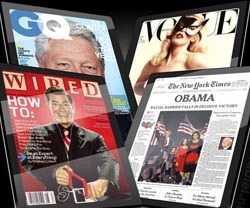 During the last few years publishers have had a major change in reader behaviour to deal with; changing trends in reading, device innovation and adoption and new revenue streams to note just a few. As the move to digital becomes more and more common for publishers to adopt, many are looking at the mainstream magazine and publication titles to see how these are performing.
Two magazines aimed at the male market are certainly ones to watch in digital success. In a recent report, GQ and Men's Health Magazine were highlighted as the biggest digital edition circulations in in the final half of 2012, according to combined print and digital figures.
The digital version of Men's Health sold on average over 12.5k digital copies per month, totalling 6% of its combined print and digital circulation.
Condé Nast's GQ had the second-biggest digital circulation of those that reported, with over 11.5k totalling 9% of its total print and digital circulation.
Wired Magazine is another high profile publication that took digital by storm. According to a report, Wired's digital edition contributed 50% of their total advertising revenue in the last quarter of 2012.
So what makes a digital magazine successful? The Guardian believe it is the added extra qualities available with digital "Rethinking the magazine as a unified "storehouse" of value is a nice starting point for brainstorming new ways for magazines to create pleasure and value for their audiences across different media. Top Gear Magazine is noted for this "The print product is to linger over, but the iPad edition and the app, with its galleries and high-definition videos, its exclusive offers and interactivity, is where the magazine's strength now lies."

As well as positive growth, experts have questioned price. With the rise in digital publications it has been reported that some of these publications are using this transition to raise the prices. Readwriteweb state "Asking buyers to pay more for something that costs you less to deliver is the kind of tactic that makes many subscribers feel exploited. It's a head-scratcher, if not a subscription-canceler. Sure, magazine makers may still be coping with meaty legacy cost structures. But that's not our problem, is it?"
Image thanks to the nice folks here.