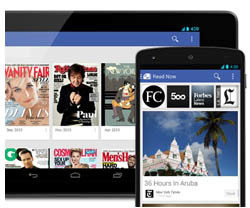 Let's face it; we spend more time reading on our smartphone and tablets than pretty much any other device or implement these days, reading on portable devices is huge business and if current trends are anything to go by then this is set to continue for the foreseeable future.
When Google closed down their reader service in July of this year there was much groaning and gnashing of teeth as people had become accustomed to the handy RSS reader for keeping up to date with their favorite subjects, topics and interests. As is generally the way in the ever advancing world of technology, it wasn't long before ready-made replacements had filled the void left by Google reader and the furore surrounding the demise of Reader died down to a whimper.
Google kept their toe in the market with both their Google Currents and Play Magazine apps and just last week they announced the amalgamation of the two apps as a reincarnation by the name of Google Play Newsstand. Both previous apps had their detractors for various reasons but Google's latest offering has garnered an altogether more positive response amongst users.
How does it work?
Boasting the best parts of both previous apps, Google newsstand uses the Currents side of the application to allow you to follow individual interests and subjects through subscribing to RSS feeds (and also transferring existing RSS feeds from Currents), while the magazine side of the app allows users lets you locate and subscribe to your favorite magazines (there are currently more than 1,900 free and paid, full-length publications that can be subscribed to or followed in Google's Newsstand). "It's a nice, highly designed feed that is tailored for you and your personal interests," says Scott Dougall, director of product management for Newsstand. "The more you use it, the better it gets. Even on day one, it's super relevant."
It sounds like a fairly seamless transition, and it is; you would also be forgiven for assuming that Google were going after Apple's own Newsstand app with their similarly named creation, but when you delve a little deeper, it seems that Apples' Newsstand may not be the target of Google's new kid on the block. That accolade may fall to the vastly popular Flipboard.
Flipboard, which enjoys a mammoth 85 million monthly users, recently released new product curation capabilities essentially lining itself up a modern day digital catalog to add to its considerable armoury. It's fair to say they are not resting on their laurels; rumours also abound of a new $50 million investment, it's clear that Flipboard have more expansion in mind. Google Newsstand has positioned itself well to meet this challenge head on; the fusing of Play and Currents has left Google with a strong product made from two arguably weaker entities.
The battle for our attention
Google have incorporated some innovative tools to enhance the user experience of Newsstand, its use of the 'more you use it, the better it becomes' adage is particularly adept in predicting stories and news that you will find interesting based on your previous reading habits. Publisher reaction to Apples' app of the same name was rather muted when it was released some years back and remains so. The main bone of contention being the monetization of the content that the publishers are providing, or more importantly, the lack of it, there is also the fear that Apple's newsstand is a place where apps go to be forgotten.
Flipboard have had their own problems in this respect in recent times, the scaling back of operations by The New Yorker and Wired being two examples of publishers who are harbouring their own concerns in terms of monetization for the content they release, on the flip side, (no pun intended!), Time inc have come on board bringing content from People, Instyle and Fortune with them.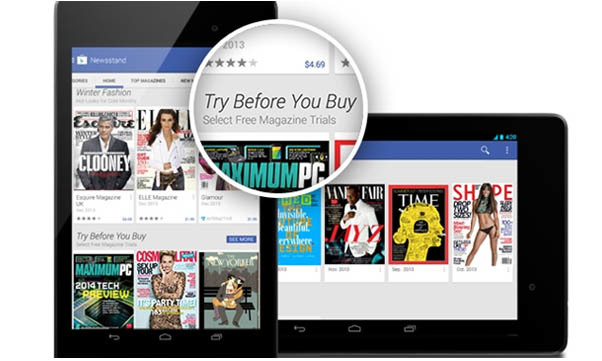 One of the main differences between Google Newsstand and Apple's version is Newsstand allows for paid, subscription-based access, bringing paywall publishers like The New York Times and The Wall Street Journal into the fold. This could prove to be a masterstroke and one that encourages other like-minded publishers to take part in the platform. What Google and publishers alike will be hoping, is that the launch of Newsstand will aid in a topic that has been growing in the background for some time, that topic is the issue of discoverability. The theory being, if readers can find all they need in one place, rather than hunting down stand-alone apps or using third party software such as Fliboard, it will help improve subscription sales.
There is a genuine worry that android users are not as open to spending on apps as their iOS counterparts have proved to be in the past, and that this could be a hindrance to Google's aspirations. Much like the devices we employ, habits and attitudes are evolving and this habit could be in line for a change. Couple this with androids growing popularity, (four out of five smartphones shipped are now android), and the shift in reach in relation to Android and iOS, could become even more pronounced.
Google has promised to endow publishers with greater control over how their articles are presented. Magazines can upload full-featured digital editions ensuring they retain the look, feel and identity of their printed colleague. Some even take advantage of the interactive capabilities; the New Yorker for example, includes authors reading their stories or poems through audio clippings.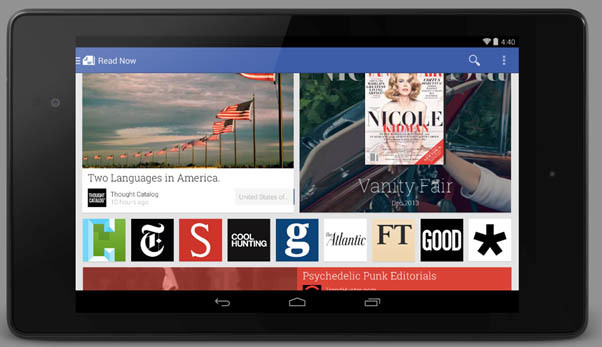 The New York Times, The Financial Times and The Wall Street Journal's involvement at the launch of Newsstand only further reaffirms its credentials as a creditable opponent for Flipboard, its 1900+ publications offering support for publishers with digital subscriptions. Newsstand will also work as a reading service, similar to Flipboard, curating a personalized feed based on topics you're interested in. The platform has all the tools to mount an assault for a corner of this potentially lucrative market.
Head of mobile products at the New York Times, Alex Hardiman, gave a knowing nod towards Google's efforts when he commented that Google's new found approach of allowing publishers to forge direct links with their readers and the added ability to sign up new subscribers through their own app echoed the publisher's own strategy of reaching readers through multiple channels.
Despite this new found common ground with publishers and the news industry, areas of tension remain, succinctly put when Ken Doctor, a news industry analyst with Outsell commented "To publishers, Google is like the sun – you can't live without it, but you've got to be careful about it."
The app which is now available for android phones and tablets; will be launched on iOS early next year and it will make for interesting viewing to see what kind of traction it can generate and whether it can make any inroads into Flipboards current domination of the market.