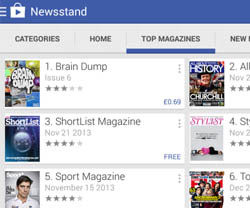 Last week Google launched a new App called Newsstand and this has replaced Google Play Magazines and Currents. Google Newsstand is a Flipboard-like personalized reading App for Android Smartphones and Tablets.
How Newsstand works is in two parts; the first part is Google Currents is being used allow readers to follow individual interests and subjects through subscribing to RSS feeds while the magazine part allows readers to their favorite magazines.
The Media Briefing has reported that the model Google has gone for is designed to emphasize discovery, a big issue for any digital magazine publisher not lucky enough to get picked for promotion by Apple. Google Newsstand will also bring subscriptions for newspapers such as The New York Times and The Wall Street Journal. The media briefing was correct when they stated that Apple has one huge advantage when it comes to paid sales. – it forces people who use its devices to set up an iTunes account linked to a credit card. That simple difference makes the leap from owning an Apple device and buying content on it significantly smaller than it is on Android.
Google will be continuing with its Currents application to incorporate premium advertising to Google Newsstand. Google has not yet revealed the profit share of publications with publishers but it can only be assumed that it will be less than the 30% mark that Apple is charging publishers.

Will Google Newsstand be a challenge to Apple Newsstand? That is a question on every publisher mind that is involved with both applications. Google is two years behind Apples release of Newsstand, but the only thing similar between the two packages is the name. Apple Newsstand had dedicated Apps for each publication whereas Google Newsstand is more flip board based. Will Google Newsstand catch up to Apple's Newsstand or even surpass it? Only time will tell.
By Derek Kelly