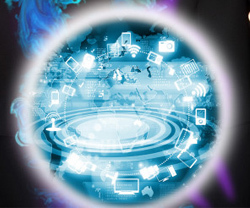 The first iPhone generation was presented to the world back in 2007. Since then the mobile industry has skyrocketed and phones have become multitasking devices.
Today you can purchase online, read a book, create a presentation for work, take photos, talk to your friends and even track our running distance using our smartphones. With this in mind it's not hard to imagine how today's mobile environment will affect the future of publishing.
Increased Access
Today you can connect to the web from almost anywhere thanks to the 3G and 4G networks. But not only that, your smartphone is so powerful that is almost like a mini computer in your pocket.
Using your phone just for scheduling meetings and checking your mail is a thing of the past. Smartphones have become a working tool. In fact, instead of carrying bags of books with you on your business trip you can pack everything inside your smartphone and/or tablet.
Thanks to your mobile you can now be connected and 24/7.
Digital Publishing Technologies
The improvement in Internet accessibility and mobile technology has had such an impact on our society that the development of other industries have also been affected.
One of the industries that first struggled and that now has learnt how to embrace this new technology is the world of publishing.
What for many years was known as the publishing industry has now split into two, traditional publishing and digital publishing. At the very beginning digital publishing consisted of PDFs and blogs, but nowadays there's a much wider range of publishing options available.
Creating news hubs, flipbooks, digital magazines and even apps is now straight forward thanks to the existence of user friendly platforms and publishing suits.
The main objective of these digital publishing platforms is to eliminate all the hassle and make it easy for anyone to become a publisher. That way you can concentrate on the content and creativity side of things, while the software itself takes care of all the technical aspects.
The Marketing Side
Flipbooks and hubs are becoming a dominant part of the online marketing strategy for many companies.
There's a good reason for this. These publishing platforms are flexible, eye-catching, user friendly, easy to maintain and can be accessible everywhere. They showcase the best of your brand, make it easy for your audience to find what they need and help you stablish your brand in the digital market.
A flipbook can be just a replica of your print magazine or could be an extension of it with more features like music, videos etc. The possibilities are endless.
Hubs are dynamic. They auto-update with all the information you publish as soon as you release it. They will keep your audience always up-to-date on your latest news and developments and will engage them.
What will The Future of Publishing Look Like?
The world is shifting towards a digital world and the digital publishing sector will play an important role in it. Society feeds on information and content. Knowing how to use it right can be the key to your success.
It's difficult to say if print content will disappear in the near future, but if there's something we can be certain about is that digital publishing will be at the center of the new era.
If you want to start your journey in digital publishing start our free trial and create your own flipbook, hub or/and apps.