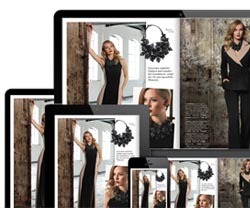 Owned media, otherwise known as branded content or native advertising, is the fastest growing media channel in the UK, a fact that is supported by the latest ABC results. In a time where magazine publishers are being forced to explore every avenue, leaving no stone unturned in the quest for monetization and to uncover any options to boost ailing readerships, this news is particularly poignant.
The consumer has long been tired with the standard advert, being told matter of factly that one brand or another is best for whatever reason isn't cutting the mustard anymore. Consumers want to be entertained, their attention has to be earned, and continue to be earned. Attention spans are shorter than ever and the media options to consumers are many, brands had to be able to touch the consumer on a personal level to utilize the sparse time span they had to garner attention and future engagement.
The success of these magazines is in part due to the continuing trend of brands becoming publishers (source)
The figures from ABC have highlighted some interesting trends within the publishing industry, for example the top three magazines in the poll, The National Trust, Asda and Tesco are all publications belonging to the brand, in fact six of the top ten titles were brand owned and produced.
It's all part of the step change we're seeing in content marketing, where increasingly consumers are interested in content from brands they trust. (source)
Clare Hill, Managing Director of the Content Marketing Association, says:
"Consumers continue to invest their time in high quality crafted editorial products as more and more brands take ownership of their own media channels. Critics argue that much of the success of content marketing magazines is down to the fact that many of them are free, yet Waitrose has a cover price and is the highest growing magazine this year. The most high profile consumer magazine launch in recent years has just come from the Net-A-Porter brand with a high cover price of £5, demonstrating that branded content and the content marketing discipline is both leading the ABC circulation charts and the competitive magazine industry."
ABC Top 100 Magazines – Average Circulation (print only)
1. The National Trust Magazine, 2,043,876
2. Asda Magazine, 1,983,433
3. Tesco Magazine, 1,935,680
4. TV Choice, 1,374,813
5. Morrisons Magazine, 1,333,787
6. Tesco Real Food, 1,215,000
7. What's on TV, 1,049,558
8. Radio Times, 831,591
9. Take a Break, 696,507
10. Waitrose Kitchen, 659,271
Branded content has been on the rise for some time now and these latest figures by ABC further compounds that this may indeed be a section within publishing which deserves some undivided attention. This form of publishing, which is widely predicted to garner even more traction in the coming year, looks set to dominate the publishing sphere for some time to come. There have been several high profile examples of brands who are adjusting their approach to include branded content. Media giants such as The New York Times, the esteemed OPA (Online Publishers Association) and Time inc have all indicated that this will be an integral part of publishing going forward. Companies such as Kiosked have taken this a step further with the introduction of technology which effectively turns visual elements such as online pictures into advertisements.

Another vital component in today's digitally enhanced world of publishing is to be available across all devices. It has been well documented that this is moving from a 'should have' element to a 'must have', there is no question about it, your content, and your publications simply must be available on whichever device the consumer chooses to view them on. To fail to do so could contribute to the very real prospect failure all round.
Are your publications and content available across all platforms?
Would you like them to be?
Why not try out Content Hubs and transform the potential of your content and publications.