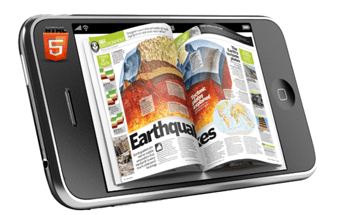 The world is now mobile. Search and email consumption on mobile have now surpassed desktop. To retain and grow your audience your content needs to be mobile centric. Mobile apps offer companies a secure way to publish and deliver content instantly and into the hands of your audience. However when considering how to migrate your content to mobile, there are a few things you need to consider:
1. Responsive
Designing for print was easier because you had a fixed width and height to work and be creative with. As more mobile and tablet devices enter the market, the screen resolution sizes that your content needs to be tailored to increases. To maximise the efficiency of your content marketing strategy, your content must be responsive so it can auto-adjust to suit the resolution of whatever device your reader has.
2. Personalize
A few years back you would be creating one publication for everyone. But that formula doesn't work anymore, today's digital readers are busier and exposed to more content than ever before. Your content will become lost unless you can make it more efficient for the reader by allowing them to shape the content around their needs.
3. Dynamic
Print content cannot be updated. Today's readers want instant feedback and access to their news needs, a publication that doesn't offer the latest content from sources such as feeds, alerts, email or content management systems, will probably become obsolete in one or two days.
4. Social
Many readers now love being involved in growing your content by commenting, sharing or discussing your story on social platforms. This adds incredible value to your content and needs to be included in your app to increase participation and retention.
5. Library
Every company has multiple audiences that they direct different content to. The future of digital publishing relays on companies being able to cater for all those market segments through a single app, offering a simple and enjoyable experience for the reader.
6. Pinch
While the majority of today's content is responsive, there is still a need for digital replications of printed magazines. Guides, instruction, training manuals etc. it is important to ensure that the publications have pinch to zoom functionality. The standardisation of app navigation has been set by the market and users expect to be able to zoom in by pinching. Anything else won't work.
With the increasing popularity of mobile apps and mobile devices, it's safe to say that in one way or another, the future of digital publishing will rely on them.
If you are ready to start creating your app you can try our app platform, and if you have any questions, you can always email me at info@3dissue.com.
By 3D Issue