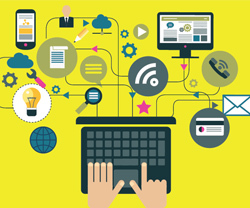 Content has become one of the most important marketing tools in the digital world and it's only a matter of time before we see changes in the way it's distributed.
The reason why content is so important is because your audience will always try to make a decision that's backed up by trustworthy information.
Creating content is one of the best ways to both show your audience how knowledgeable you are about a certain topic and to serve as an influencer in the decision making process.
When you combine this with the fact that digital marketing is one of the fastest growing fields inside the business world, a world that has seen big improvements in consumer communication technologies over the past few years, it's interesting to analyze and try to determine which the future of content distribution will be.
Connection Between Distribution & Types Of Content
This is not new. Content distribution is the main reason for the existence of the Internet. However, what at the beginning was distributed mainly in form of text, it can now be presented in very different formats.
YouTube appeared in February 2005 and it became the biggest source of videos on the Internet in only a couple of years. Such has been its popularity that some of the currently biggest celebrities started their careers on this video platform.
It's only been just over a decade and we are already talking and hearing about VR (Virtual Reality), AR (Augmented Reality) and all its possibilities. Can you imagine how the content will be shared in 20 years time?
The different new content platforms that will be born over the years and the improvements will see in the existing ones, will directly affect the way business share, promote and create content and the way the audience consume it.
This new technologies will open new opportunities for businesses. Just look at some of the trendiest resources marketers use to reach their audience nowadays: Organizing a webinar, a Facebook live stream, sending customized messages to all their subscribers upon signing up, running a vlog instead of a blog etc.
There are 2 things that seem to be a staple though. One of them is mobile and the other one is personalization.
Mobile
The new devices allow us to be connected 24/7 and what's more important we love using them to access all the information we need. Such is the attachment we have to our phones that whenever we leave home we just don't check if we have the keys to our apartments or our wallets with us, we make sure the phone is in our pockets too.
Personalization
Personalization is linked to the popularization of mobile. People are now used to receive news, pins, notifications etc. that relate to them. They won't accept information that they are not interested in. People are busy and most of the time in a rush, so they expect to only get notifications of the information they actually want.
Content distribution has completely turn into a fully customized and highly functional process where marketers try to reach their targeted audience with the content they are looking for.
Any business that wants to succeed in this new ecosystem needs to embrace these two aspects, that's the reason why Hubs are becoming so popular among marketers. They offer a mobile friendly platform that lets you filter and personalize the content you want to share and distribute without effort, so your audience always has access to your latest information in just one click.
If you want to see what this and other marketing tools can do for your business today, check out our page or contact us at info@3dissue.com