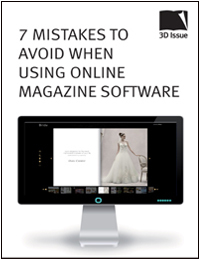 If you want to ensure the success of your digital publication; you cannot miss our latest e-Book entitled '7 mistakes to avoid when using online magazine software'. In this e-Book, you will find top tips to avoid failure and key points to use your online magazine software more effectively to:
•  Optimize your digital editions
•  Create engaging content
•  Capture the end readers' attention through unique publications
•  Ensure your end readers can access your publications
Based on our own experience, some of the most common mistakes when using online magazine software are:
•  A design that suits all platforms
•  Disengaging content
•  Lack of originality
•  Excess loading times
•  Lack of creativity
•  A lack of responsive design
•  Publications that cannot be found by search engines

Our team has identified the most relevant points to take into consideration to avoid these mistakes and make the most from your magazine software – through simple and practical steps. Download our free guide today and get all the information you need to ensure the success of your digital magazine.
Check out our blog section for more information on tips and hints to enhance your digital edition.
Feel free to contact us for any queries, comments or ideas at customerservices@3dissue.com
Enjoy!
By 3D Issue