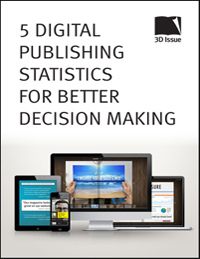 What are the latest trends in digital publishing?
Ensure the success of your publications through a clear understanding of:
•  The end readers' new reading habits
•  The effectiveness of social media and mobile platforms to reach target groups
•  The time-frame for web browsing activities in desktops, mobile devices and tablets
•  Publicity opportunities for businesses
This insightful resource provides you with a clear panorama of the digital publishing sector so that you can make the most of the new opportunities available and take your digital publication in the right direction. Gain a clear understanding of what works best in digital publishing to establish the right course of action for your publication.

If you are interested in discovering more effective ways to enhance your digital editions and fulfil your goals; this e-Book is definitely for you.
For more information on the latest trends and statistics in publishing sector, check out our trends and statistics section and contact us for any queries, comments or ideas at customerservices@3dissue.com
By 3D Issue