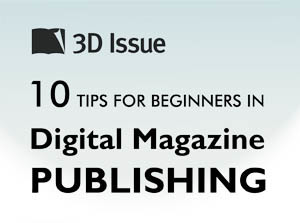 Which road leads to success in Digital Magazine Publishing?
Our new e-book entitled '10 Tips for Beginners in Digital Magazine Publishing' can provide you with key aspects to be considered in the creation of a successful digital edition. Nowadays, it is essential to identify the most relevant aspects of the digital publishing sector to make the most of this powerful channel to reach a wider audience.  A good understanding on the sector – its requirements, the benefits as well as the challenges;  can certainly be the right place to start your digital journey!
In our free guide, we provide you with expert advice to ensure you have the right foundation to fulfil your objectives through a highly effective digital magazine. Our 10 top tips include:
1. Become familiar with your digital audience
2. Be aware of the latest trends in digital publishing
3. Identify the benefits and challenges of going digital
4. Establish your marketing plan
5. Optimize your content for different platforms
7. Make the most of the distribution channels available
8. Evaluate the performance
9. Tips to revamp your digital e-magazine!
10. Monetize your digital e-magazine
Starting a new project can be challenging and uncertain; as a result, invest your time getting information from trustworthy sources to make the right decisions and focus on the most important elements to create your dream e-magazine.

'10 Tips for Beginners in Digital Publishing' can provide you with a clear panorama of the current digital publishing sector in order to establish a course of action that leads to success and allows you to reach your full potential through the continuous improvement of your digital magazine.
If you planning to go digital or even of you have been publishing digital publications for years, this guide can a great source of information to inspire your future digital projects – Download our free e-book today! And let us about the projects you have in mind for your e-magazine at customerservices@3dissue.com
By 3D Issue