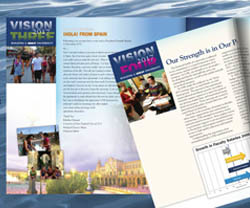 Online magazines are the latest trend. In fact, many are the publishers that have a digital version of their printed magazine.
One of the main advantages of digital magazines mentioned by publishers is that thanks to them they can reach their audience anywhere and everywhere.
Going digital gives you the ability to connect and engage with a wider audience and the opportunity to provide your customers with an experience they wouldn't be able to get with print.
Digital magazines are no longer just a replica of the printed version on a digital format, or at least they shouldn't be.
Digital publishing software nowadays allow publishers to not only create a life-like experience similar to holding an actual printed magazine (they can even recreate the sound of pages flipping) but they can also enhance that whole experience.
Why are flipping pages a must?
Well, to begin with for many a magazine doesn't feel like a magazine if they can't actually flip the pages.
Having just a PDF where you can just scroll up and down is not an appealing experience, it's like just going over a standard document. There's nothing interesting or fancy in doing so.
It was ok at the beginning, when there was no other way to display a publication on a digital format and the customers were forgiving and accepted the fact that to have a digital version of the magazine, they would have to give up on some of the aesthetics and design.
However, we've come a long way since the first magazine was published online and your readers now it. They sure expect more than just a simple PDF.
That's why is so important to at least offer the flipping page experience, and I say at least, because there are other more advanced features that you can include in your digital publications.
Thanks to the technology developed by companies that create digital publishing software you can create digital versions of your magazines with flipping pages, videos, image galleries, animations, music and more.
The only thing you would need is a PDF with the design of your magazine. The rest is a straightforward process
How to create your first digital magazine with 3D Issue
1. You can download the free trial which includes a 14 day fully functional trial. If you later decide to purchase, your work is saved so you don't have to start again when you convert to the fully licenced version.
2. Import your PDFs and enter your FTP and profile details, if you need it or team will help you along with this.
3. Add features to your digital magazine including video, animations, music, links etc. Then preview and build your magazine.
4. The next step is publishing your magazine online. To do so, you will just need to click on the "build" button, that's it.
5. Finally the exciting part, share your magazine via email, social media etc.
As you can see from the above steps creating a digital magazine couldn't be easier.
Most of the publishers have excellent results and admit that the process is much more simple than they ever thought it would be, it helped them improve their reader's experience and loyalty, and reduced their costs.
I hope you found this blog helpful. If you have any questions about creating a digital magazine you can contact us here at info@3dissue.com
By Georgia Keys