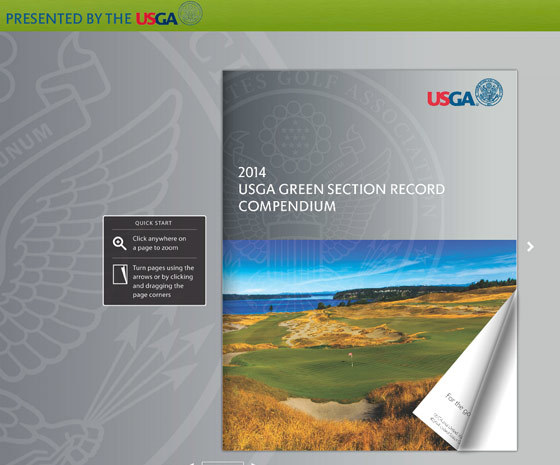 Preparing your marketing materials with flipbook maker software is an enjoyable task, seeing the cohesion of all content elements such as text, photos, video and web links coming together in a presentable, easy to follow flipbook is rewarding.
The United States Golf Association utilized flipbook maker software to inform their clientele. They went about building a compendium for all the articles and content they produced in 2014. USGA used 3D Issue flipbook maker software to create their online publications. The results were excellent, with the content, information, branding, technology all combining to compliment each other.
A few of the top features in the USGA flipbook are:
1. The custom preloader; as the flipbook loads you can have added your logo as the first thing your audience will see as they wait the few seconds for the loading. See a video tutorial on how to install your logo as a preloader.
2. Banner adverts along the top; this truly is a valuable advertising space with scope for creativity with banners that can interchange at intervals and be clickable. See how to create and add banner ads here in this video tutorial.
3. Custom background image; the image behind the magazine can be added by you to suit your publication. This can have work to great visual effect as a backdrop to browsing. Learn how to do use this feature here.
4. Integrating video into the flipbook; Video can be included to give more info, show movies, show demos, interviews and more… good for use in paid adverts throughout a magazine also.
Click on the image below to launch the USGA flipbook and see all the features.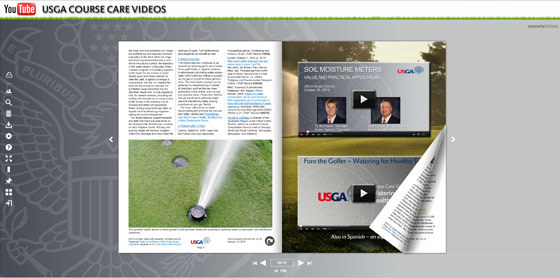 5. Buttons to return to the content page; USGA has cleverly used an arrow button on certain pages throughout the publication that once clicks leads back to the content page. See this arrow button on the bottom right corner of page 21.
6. Inclusion of image galleries. See a video here on how to achieve this and answer to showing many images that go with an article. See images galleries on page 18-19.
7. Web links offering more information, see a video here on how to add web links to your flipbook.
8. Inclusion of buttons to access the Spanish versions of videos. If you have content why not showcase it. USGA have shown buttons below the videos to direct readers to the Spanish versions. See it on page 26-27.
9. USGA have created a Reference page 45-46 with lots of useful links.
10. Load control, for a 196 page publication packed with images, video and so on, it is so easy to view, no waiting time.
11. Advertising, on page 148-149 there is an advert to sign up green section, the rectangular has been given the hotspot feature making the whole ad clickable leading to the link to subscribe.
12. Jump to page feature. This feature will allow the end reader to jump to a specific page within the publication. See it on page 189.
If you have any questions on the features discussed in today's blog please contact info@3dissue.com.
By Audrey Henry