Let us have a quick look today at some popular digital flipbooks. The term flipbook has become popular of late and for those of you who are not all that familiar with it in today's blog we will show you some examples.
A digital flipbook is a digital version of your publication, including any video or interactive content you choose to add. The flipbook is designed to be viewed and shared online, via email, Facebook or Twitter and other social sites. You can share it on disc as well; this is especially handy for trade shows and events. Flipbooks can be added as part of your website. Or it can be available to download as apps from the Apple and Google Play stores. It is created from a PDF of your publication and when digitized the flipbook is viewable on all devices, from PC to ios, android and ebook readers.
In the September 2014 issue of Naturally Fit you can see how a flipbook can be.
Click on the image below to launch the flipbook.

Then you will see how this fitness magazine has made the most of its advertising space by completely covering the advert with a hotspot when hovered over. Advertises love this feature as the hotspot can link to their site. Set your flipbook in conjunction with your google analytics account and you can tell each advertiser the effect their advert is having. Paying attention to the design of your flipbook and especially the cover is time well spent as these appealing factors will help you increase your readership.
Naturally Fit have also added direct links to their social sites along the left hand side of the image below, encourages more readers to follow them. Learn how to add links in this video tutorial.
Many large corporations and business that have huge emailing lists of clients, customers, and followers. Universities with student to keep informed of current events, avail of the digital flipbook as a means of keeping communication current.
Click on the image below to see the flipbook for Oxford Brookes University launch.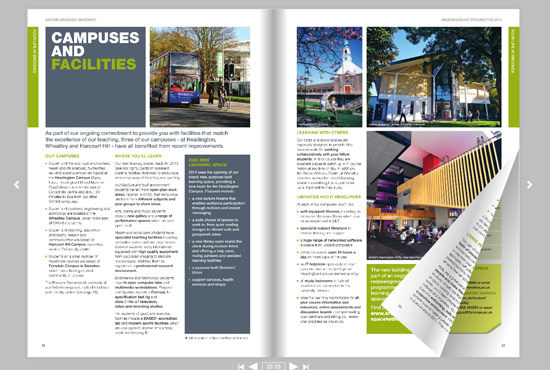 By Audrey Henry