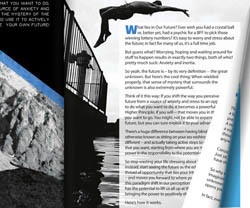 The world is online, how many times have you heard that? Well there is a very good reason for the regularity of this statement as in the main it is true. The facts and figures available to us back the theory; we as a global nation are consuming more content online than ever before. Advancements in the devices we use to access said content combined with widespread upgrades of broadband speeds has only served to accentuate what was already a burgeoning marketplace.
Flipbooks have played a pivotal role in this digital revolution; they have breathed new life into the static PDFs of their printed relations, their use of interactive features allied with a larger reach, low cost production and the capabilities of tools in the vein of analytical analysis for all parts of your flipbook make these a marketers dream. It is with this in mind we will look at methods aimed towards creating your flipbook for marketing success.
Identify your audience
It is very important to identify the right audience in order to get the best results for your flipbook and your business in general. You should know your product inside out and as such, your next move is to identify who it is most suited to, where do they reside online? What are their online content digestion habits? Can you interact with them through social media and build a rapport and a better understanding of them? Perhaps through this interaction you can ascertain what topics they would like information on, what it is that interest them the most?
Integrate Google Analytics with your flipbook
3D Issue has an analytics feature built into the software that allows you to access reports on your flipbooks performance, simply by entering your Google analytics ID into the software, your publication will feed the statistics into your Google account and record any interactions that your flipbook has had with users. These reports can contain a mountain of information that can be priceless for your businesses current and future plans.

HTML5 capabilities for mobile devices
Flipbooks and other digital publications can now be created in HTML5 as well as flash. This enables users on iPhones, iPads, Android and other and mobile devices to get the very best digital experience, when and where they want to access it, with all the features of the web version.
It is a fact of life today that nearly all of us have mobile phones, recent statistics have shown that mobile traffic will exceed web traffic within the next couple of years, so it is imperative that whatever medium you use for your flipbook that it can be viewed with a mobile phone or whatever device the viewer may be using at that time.
Estimates state that over 40% of us are reading web content on our phones, so while this would be folly to ignore; it could also be fatal to your business in terms of your market reach compared to that of your competitors.
The content within your flipbook will be your brands ambassador so treat it in the same way you would treat a consumer as if you were meeting them for the first time, don't just bundle together as much content as you can and hope for traction, quality triumphs over quantity every time.
There are many other facets of flipbooks which can enhance and build your brand such as,
• Media-rich Publications
• Branding throughout the publications
• Social integration
• Fully Customizable Output
• Searchable and Zoomable Content
• The ability to reach your audience on any device
• SEO Friendly
• Auto Detection and Placement of Links
• Shopping Cart
• Publish Quickly and Easily and much, much more
Is it time you maximized your businesses marketing potential by the migration of your approach to an online flipbook domain and the inherent capabilities it possesses? Then why not try the free, fully functional trial of 3D Issue today, you won't be disappointed.