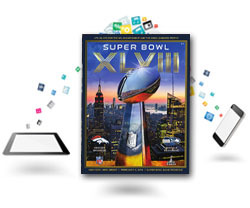 Passion, fuelled by knowledge is often said to be at the heart of any great content and if this is the case then consumers will naturally be attracted towards publications that continually strive to supply high quality, relevant, fresh content, content as always, is king. Online publications hold the advantages of being instantly available, enabling you with the ability to maintain regular contact with your clients and in the process keep them updated with your latest ventures and news. This is vital in solidifying long standing relationships which will ultimately lead to a higher regard for your brand leading to more sales.
Read more about Making a Flipbook for Marketing Campaigns here.
The world in general has shifted their focus online, their search for information and content consumption is now, in the main, carried out online, this is where you as a business have to be, and it is where your content has to be. It is where the numbers are, it is where the eyeballs of the globe now reside.
Below is an example of what can be achieved through the employment of flipbooks, this sample, created for the The Super Bowl XLVIII Official Souvenir Program delivers breathtaking action photography, compelling feature stories, and keen insights on the competing teams and host city.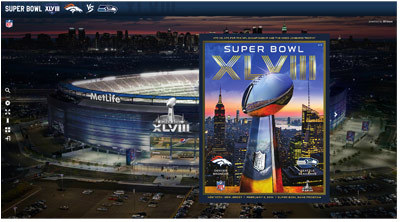 Flipbook apps and their advantages
Interactive capabilities –
The internet and the advancement of the tools we can use to produce content within it, has given marketers the perfect platform to create interactive material that will engage consumers and encourage them to spend more time on your site sifting through your material. It engages the user to interact, share socially and reveal personal information that can be used to help your lead targeting.
Read Flipbook Design – 5 Inspiring Tips here.
Responsive layouts –
It is a fact of life today that nearly all of us have mobile phones, recent statistics have shown that mobile traffic will exceed web traffic within the next couple of years, it is imperative that whatever medium you use for your newsletter that it can be viewed with a mobile phone or whatever device the viewer may be using at that time.
Estimates state that over 40% of us are reading web content on our phones, so while this would be folly to ignore; it could also be fatal to your business in terms of your market reach compared to that of your competitors.
Read 7 Best Practices to Creating a Flipbook here.
Rich media –
Dynamic content has transformed the world of online publishing, we are no longer tied to static pictures and text when it comes to the publications we view, we now have the added value that audio and video bring to our publications, they say that a picture can speak a thousand words, well by this theory surely video and audio interaction can only enhance our publications and in turn then enrich the quality of the end users experience.
The advantages of using flipbooks as part your online marketing strategy are obvious and plentiful, the consumer is exposed to an ever increasing array of options when it comes to the content they view, read or hear. Flipbooks offer the perfect platform from which you can entertain and engage with consumers worldwide.
View some more flipbook samples using the 3D Issue software here.