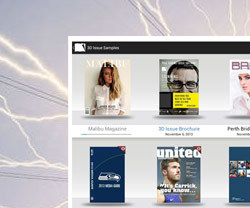 Flipbook animation software is a great way to house and complement content. Content is the driving force behind the internet, it is the very fuel which drives the World Wide Web, without it, the internet would be an empty chasm and would not enjoy the eyeballs and traffic that it does today. We are, by nature, a curious race, information and content spikes our interest, it drives us to find out more about the subjects and topics that interest us wherever this information can be located. In today's world that location is online.
The continuous evolvement of the internet, not to mention the rapid ascension of smartphones and tablets usage, has enabled us to take content delivery to the next level, where once the internet consisted of plain text and images in a similar vein to newspapers and magazines we are now endowed with the option of delivering our message in a much more powerful and concise fashion, most notably through video and audio content.
Flipbooks offer many advantages to the online marketer and the company wishing to get the best from their content, the process of setting up your very own flipbook couldn't be simpler. In fact we have a video here showing you just how easy it is.
Flipbooks harbor many qualities within their digital covers, qualities which can enhance your content and in the process build your brand such as,
• The ability to reach your Audience on any Device
• Media-rich Publications – video and audio capabilities will really make your publications come alive
• Publish quickly and easily
• HTML5 Version for Mobile Devices
• Online & Offline editions
• Google Analytics Integration
• Portability
• Ad banner advertising
• Low production costs
• Environmentally friendly
• Instantaneous delivery
• Worldwide reach
• User Login feature
• Image Gallery
• Auto Detection and Placement of Links
• SEO friendly publications and much, much more
The content you produce is your ambassador, it is your voice in your physical absence, as far as the consumer your content is you. You will be judged on the strength and quality of your content, it is up to you to not only produce the highest quality, most relevant content that you can but to also to present it in a way that will complement and embellish your hard work. Using flipbook animation software to deliver said content is a guaranteed method for getting the very best from your content but also from the return on your investment.