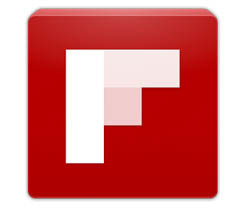 In what is becoming a common trend these days, the Palo Alto, California-based Flipboard are the latest online media start-up to announce a major funding injection. The funding which comes in at a cool $50 million is the second such funding received by the online social 'flip' magazine in recent months, the previous round of funding being for a similar amount in September of this year. (They had a first round of funding in 2011 for a fee reported to be in the region of $60 million).
The start-up which was only formed in 2010; has proved to be an extremely popular platform among users and advertisers alike, the social news aggregation app which turns social news feeds into personalized magazines for mobile devices has also hit a new benchmark in terms of the amount of users of the software. The app, which has risen to over 100 million users, up from 85 million users just a few short months ago, received the latest round of funding led by Rizvi Traverse Management and including investors such as Goldman Sachs, Kleiner Perkins Caulfield & Byers, Index Ventures and Insight Venture Partners. This brings the total funding raised since 2011 to a sizeable $160 million.
The app which recently announced new features enabling its users the ability to create and curate their own magazines using real time products has gone from strength to strength since its 2010 inception. In May of this year the company launched Flipboard 2.0 with the stand out feature being the introduction of the ability to hand pick the content you want to appear in your magazine. Version 2.0 of Flipboard, said CEO Mike McCue, "allows anyone to effectively build their own magazine on Flipboard. They can pull together content under any topic they're passionate about–[and share] other articles, photos, videos, music–pretty much anything."
This introduction of this facility led to the inevitable consumer and e-commerce inspired update that was launched last month which incorporated all those facets into their latest offering. Flipboard now endows the user with the ability to create and curate their own catalogs with products they independently source. Just as users could utilize Flipboard to keep up with their social feeds or stay informed of political or tech news, in the same vein consumers will now have the option of browsing through a whole category of shopping magazines – much the same as the traditional product catalog, except boasting digital era capabilities. Flipboard; which is compatible across numerous platforms including the iPhone, iPod Touch, Android, Windows 8, Blackberry 10 and iOS is now valued at an astronomical $800 million.

There can be no doubt that Flipboard is a company enjoying an upward curve, in an interview with Techcrunch, CEO McCue spoke about the growth in users and the amount of magazines being created. He went on to say that Flipboard is adding 200,000 users per day, "sometimes 250,000 or 300,000." With a reported 4.5 million magazines currently on Flipboard the future certainly looks bright. One of Flipboard's main strengths has been the growth of outside advertising within its magazines; their ability to integrate engagement between those advertising within their magazines and the consumer themselves has led to a rise in popularity to the approach. McCue went on to say in the same interview with Techcrunch "When you tap on the ad, it will take you to a brand magazine. With version 2.0, these brands are curating magazines."
This latest round of funding will, according to a report in Forbes which featured Flipboard's Chief Technology officer Eric Feng; be used to strengthen two main areas of staffing within the company, engineering and sales. Amazingly in the same report Feng tells us that the sales team number only five for the New York, West Coast and the Midwest areas and it is an area they are actively looking to strengthen. The company has been showing significant traction in their sales figures due to their recent pivot in approach and advancements within the platform. The engineers they intend to hire will be aimed at adding Flipboard to new platforms, seeping further into international markets, (specifically India and Asia), further extending their already considerable reach.
This funding follows a similar pattern that has been emerging in recent times regarding huge sums changing hands for online ventures; one only has to cast their mind back to the LinkedIn purchase of Pulse back in April for $90 million, Yahoo buying Tumblr for $1.1 billion and the recent rumours of Snapchat turning down a purported $4 billion offer from Facebook to add substance to this theory. It's clear that the world in general has migrated with relative ease to the online sphere and is being followed by advertising and monetization opportunities previously only afforded to traditional media. This approach is not only proving popular but is extremely big business and is proving very lucrative for those involved. We could be witnessing the dawning of the magazines of the future, magazines and a style of reading which is really beginning to resonate with many people, the fact that the world is now online whilst on the move can only improve the chances of this approach positioning itself as the future of publishing.