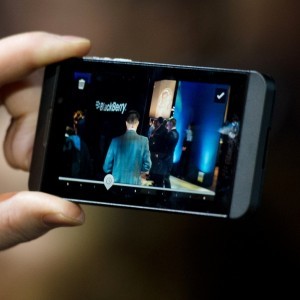 Blackberry received a much needed boost with the announcement that Flipboard is now available through its smartphones. Flipboard first appeared in the Blackberry World app store back in September for a short time before being pulled. Consumers were informed that the app would be reappearing at a later date and only on 'select devices'. In reflection, as the Z30 was due to make its cameo appearance this could have been the real reason behind Flipboard pulling the app, after all it would have been viewed as counterproductive to announce that Flipboard was coming to other models of Blackberry when it was supposed to be 'exclusive' and a major selling point for the Z30.
This 'exclusivity' clearly hasn't materialised as the Z30 has only recently been scheduled to roll out worldwide while Flipboard is now available to Z10 owners provided they have the latest 10.2 installed. The app is android port only which begs the question is Flipboard biding their time to gauge the Canadian firm's future before investing anymore in a fully blown app.
The introduction of Flipboard is part of Blackberry's push to widen their phones appeal by the inclusion of popular apps, this approach has seen Wechat and Evernote added to the armoury in a bid to strengthen their position. Some would also debate their rather strange decision of hiring the Grammy award winning singer Alicia Keys to become their global creative director didn't have the desired effect. This marketing gimmick, which is all it can be seen as, didn't have much effect on their plummeting fortunes and left many thinking they would have been better served by coming up with more creative methods being employed within their software and hardware.
Its clear Blackberry is pulling out all the stops to salvage their beleaguered franchise. The Z30, while being an attractive and competent smartphone really is the companies last roll of the dice. The recent introduction of their BBM service for use on the iOS and android platforms is further proof of this. Blackberry launched their Z10 and Q10 smartphones in January of this year with limited success resulting in the unfortunate announcement that Blackberry would be laying off 40% of its workforce by the end of the year amid reported losses of $1 billion in the second quarter of 2013. On August 12 2013 Blackberry announced their intention to sell the company due to increased competition in the smartphone market and tenuous sales. On September 23 2013, Blackberry announced they had provisionally accepted an offer from Fairfax Financial for a figure reported to be around the $4.7 billion mark equating to $9 per share, this is a far cry from June 19, 2008 when the share price was at an all-time high of $149.90, in effect Blackberry have provisionally accepted an offer that was 6% of its peak stock price.

In a similar vein, Microsoft has had to tolerate grumblings that their OS doesn't quite match up when it comes to native app choice in comparison to its rivals. Microsoft is doing their best to quell the naysayers with the announcement that Flipboard amongst others will be making its first appearance on Windows 8 through the Lumia 2520 on Windows 8.1. Flipboard will launch on Windows phones in the near future with the new Lumia 1520 phablet rumoured to be the first to avail of the updated app choice.
Smartphones are often regarded as the pioneers of the digital revolution that has seen the world go online, and while this is true to an extent, another way to look at it may be that the smartphones are only as good as the apps they provide. Once again, consumer power has shone through, companies are realising that the consumer are the ones who will ultimately decide how popular your product is. The recent moves by Microsoft and in particular Blackberry are a direct correlation between consumer power and in Blackberry's case, survival. Only time and the consumer will tell if this pivot in attitude towards the consumer is enough to save them or if it really is too little, too late.