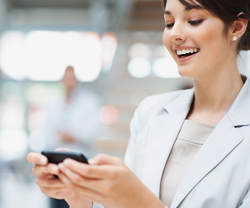 As a digital marketer you should try to diversify your communication channels as much as possible always having your target audience in mind.
Everyone is different and although your buyer persona has features that are common to all your audience, some people may prefer certain content publishing platforms to others.
A flip magazine app is one of those platforms. I'm sure that the fact that an app is one of the preferred methods when it comes to content consumption, will come as no surprise to you.
However, although in principle having an app on itself will make your brand much more attractive, if your app doesn't meet your audience's expectations, you might be doing yourself more harm than good.
To avoid this when creating a flip magazine app you should always follow these best practices:
Up To Date Content
Content must always be up to date and as fresh as possible. We're living in an era where timing is one of the things that will make it or break it. Releasing your information at the right time, can really make a difference and increase your conversion rates.
Your audience wants to have all the latest information available as soon as it's released, and you want them to have it too.
You want your audience to be able to view your flip magazines as soon as they are out, you even want them to receive a notification when that happens. Make sure that the platform you choose lets you do that.
Moreover, if you are active in many different social platforms, if you have a blog or/and a YouTube channel etc. it can be complicated to keep track of everything you publish and where you published it not only for you but also for your audience.
Having an app that retrieves automatically all that information, all the content you published and that organizes it in a neat and tidy way, will make it easier for your customers to find what they want, when they want it.
People Like Customization
Tailoring your flip magazine app to suit the needs of your audience will drastically decrease the bounce rate and increase your conversion rate.
Before creating your app do some research, try to find out what your audience likes and what doesn't, what kind of things engage them and what would make them come back.
Make them feel like the app has been created exclusively for them. They'll sure come back.
Think About Your Advertisers
Your audience won't be the only one to enjoy your new app. The advertisers of the print version of your magazine can also be part of your online revenue stream.
With an app magazine the likelihood of your magazine being viewed will increase. More views, mean more ad impressions, more ad impressions mean more clicks, more clicks add more value to your magazine as an advertising platform… do you see where getting to?
Think about all the options that a flip magazine app offers, the formats, the opportunities, the linking options etc.
When preparing to launch your app, think about what you can be attractive to your advertisers and use it.
Always Use HQ Media
Over the years you've probably sacrificed a lot when it comes to image quality just to achieve a greater website speed or to optimize your website for the perfect customer experience.
Using a flip magazine app can get you back on track on using high quality media. A powerful software will let you publish your videos and images in high quality without compromising the customer's experience.
A flip magazine app, will make all your content mobile friendly in seconds just by adding your magazines to your app platform, no coding needed. A few clicks and you'll be on all your customers pockets ready to showcase your content.
If you want to know more about how you can create an app for your business email us to info@3dissue.com, and if you want to start creating your own app right now, start your trial now!