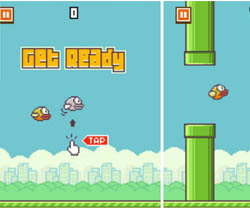 Chances are if you said the name 'Flappy Birds' to a selection of people you would be met with two reactions, a blank look of puzzlement or a knowing nod signifying the furore it has caused in some circles. In case you are not aware, Flappy Birds is a game built by Vietnamese developer Dong Nguyen, who launched the game in May of last year. The game itself, a notoriously difficult and addictive game, initially struggled to make any sort of impact dwelling in obscurity for much of, what was to prove, it's short life.
The game itself meandered around the basement of app stores for months until something quite strange occurred, like a video that has gone viral, Flappy Birds took off like a bird released (ok, ok, I'll get my coat!). The game, which according to the developer was inspired by the Nintendo's Mario Bros platform, attributes its success to the competitiveness amongst users inspired by the game; everyone was trying to beat each other's scores. Flappy Birds integrates with Apple's Game Center and Google's Play Games, making it easy to share scores with other players across global leaderboards. You can also, of course, share your scores on Facebook and Twitter, a feature which some have attributed its success to. This is one of the major reasons behind the games success and overriding popularity.
https://www.youtube.com/watch?v=lQz6xhlOt18
The game went on to become the most popular free game on both the Apple App store and Google Play for Android, the Android version has been downloaded close to 50 million times and attracted more than half a million reviews. The revenue generated by the game was reportedly in the region of $50,000 a day, which made the tweet by Mr. Nguyen which read "I am sorry 'Flappy Bird' users, 22 hours from now; I will take 'Flappy Bird' down. I cannot take this anymore", all the more intriguing.
Here was a platform at the height of its powers; it had just gone viral around the world and was making more than had ever seemed possible, so why take it down? The reasons attributed are wide and varied and I can't claim to have the answers but I will leave you with a few snippets for you to think over.

The reason behind Mr. Nguyen's decision to take the game down has been attributed to the fact 'it was ruining his life' due to its overwhelming popularity, there have been other murmurings of impending pressure by Nintendo due to similarities in their platforms, Whispers of the possible doctoring of downloads using bots has also been floating around the digital landscape.
I will leave you with this point, I am in no way doubting Mr. Nguyen's decision, if he felt that it was affecting his quality of life then it is undoubtedly for the best. What if though, just for a moment, we imagine that this was the best marketing ploy in the world? It may not be beyond the realms of possibility. Think on these points,
• By removing the game Mr. Nguyen could have been creating a niche market, after all there is nothing quite like wanting something you can't have to raise demand. Reports of iPhones on eBay with the game pre-installed priced at a staggering $80,000 further alludes to this theory.
• Media attention reached a crescendo in the run up to the game been taken down, the developer gave people '22 hours' before the game was removed resulting in mass downloads.
• The game may not be available for download but the places that the game has been installed continue to provide revenue due to the advertisements within the platform, with the last minute scramble to install the game this figure will continue to grow.
Man under pressure or marketing genius?
You decide.
Interested in marketing and producing recurring revenue stream? Try Content Hubs today.