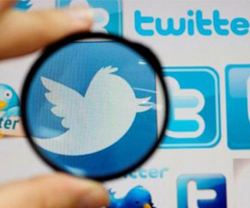 Twitter is one of the main go-to social networks when it comes to fresh information. We've all witnessed on many occasions how Twitter can report news and information faster than sites like Forbes or CNN.
In fact, journalists now keep a close eye on the social network waiting for breaking news to come up. But how does this affect your business?
Whether you run a news site or an affiliate marketing business, having a hub and being able to filter and extract the Twitter content that you and your audience are interested in, will help you establish a powerful communication channel that will increase your conversion rates.
We've talked about the importance of an uninterrupted user experience, an increasing content visibility and the importance of mobile in today's digital marketing environment. And you might be thinking "what's filtering Twitter content have to do with all this?"
When using a hub for content distribution purposes you're creating an automated online platform that will provide your audience with the information they are seeking as soon as it is published.
Since your audience knows they can find all the latest news they need in your hub, this will become their main point of reference and will engage them with your brand.
That's not the only advantage of hubs though, businesses are creating hubs as a way to decrease the cost and time spent in content curation.
Setting up a hub with your own information channels (social accounts, blogs etc.) or/and with other third party sources takes just a few minutes and frees your marketing team to carry out other strategies.
Twitter is a rich and powerful information source. But not only that, combined with Hubs makes it really easy to select and filter content based on date, hashtags, location and almost anything you can think of. Can you imagine all the possibilities?
Twitter Filters within Hubs
Filtering Twitter content with Hubs is easier than you think.
1. Just log in into your Hubs account and click on create a new Hub.
2. Once you are there, give the hub a name and select Twitter as a source. Introduce in the search box the filters you want to use (hashtags, search terms, location, dates etc.).
3. When you are done adding all the filters you want, click "add".
And that's it. Your hub will now extract all the tweets inside the social network that contain the information that matches those parameters as soon as they are made public.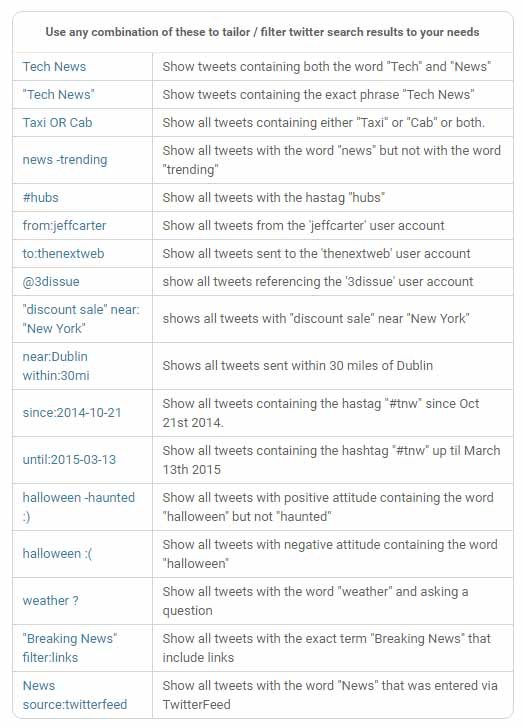 The Power of Filtering
If you added all your tweets in a single section or category, your users could feel as if there was too much irrelevant information and your Twitter feed could actually end up looking like a mess.
In order to avoid this a good way to organize your hub is to create different categories or sections depending on the topic and use certain hashtags or even search terms related to them.
For example, if you run a digital marketing blog and you publish news about blogging and SEO on a daily basis create a section for blogging that includes hashtags like #blogging #blogPublishing and another one for SEO with hashtags such us #SEO #SearchEngineOptimization etc. It will certainly improve the user experience of your hub.
Content Targeting
With a wide and international audience, is often useful to be able to filter down and target people by location. Certainly if someone lives in New York, they probably won't be interested in an event happening in San Francisco.
With Hubs and Twitter you can extract to your hub only those tweets that where publish within a certain location.
In that same way, hubs will let you add tweets based on source, date, popularity, relevance and almost anything else you can think of,so you can be as accurate as possible with your targeting.
Here is a post that details more extensively how to use the advanced Twitter search within hubs and all the possibilities it offers.
If you have some questions regarding 3D Issue Hubs and how can you use them to filter Twitter content, feel free to contact us at info@3dissue.com.