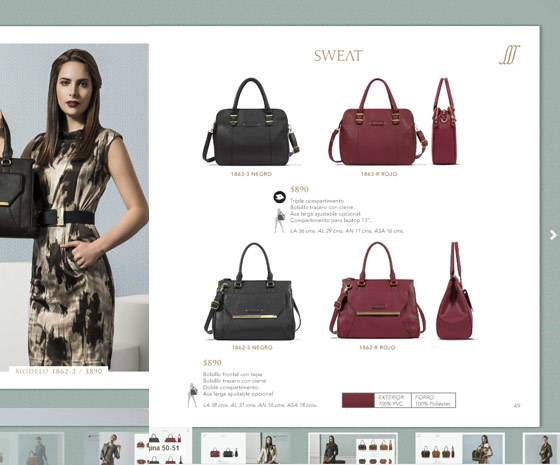 Having an eye-catching e-catalog is a marketing staple for retailers. Both print and digital versions of a catalog can have far-reaching effect on a company's profit margins. Making an eye-catching e-catalog can depend upon a few key design features, contemplate your text, images, graphics and fonts. Decide carefully upon your style. Having breathtaking photography and images is always a great way to showcase the products and services on display in the catalog.
The visuals, in the case of a catalog, as opposed to any other form of digital publication, are of the utmost importance as they have to sell themselves. Couple these great design elements with interactive digital features and you can have a winning combination for retail communication in a tech-driven mobile world, where meeting your audience on any device they choose to shop, browse or spend time on is a marketing must.
In today's blog, I will share some examples of e-catalogs that have been created with 3D Issue digital publishing software.
See the first example by Anglers Patagonic by clicking on the image below.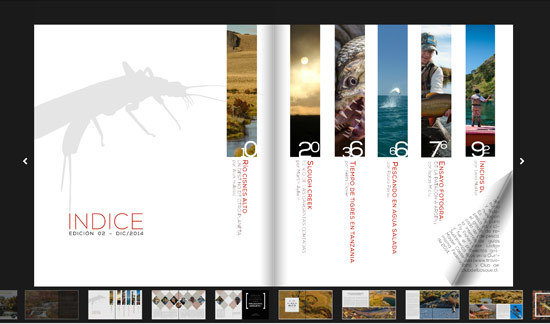 Their digital magazine is created around the topic of fly fishing, and aims to create a community around Spanish fly fishing. Their use of stunning scenic photography lends itself to welcoming a reader into the publication. Use of photos and images can further be enhanced by the creation within the digital catalog of an image gallery. See this informative video with step by step instruction on how to create an image gallery. If you open the double page spread of page 3-4 you will see how Anglers Patagonic have cleverly used the contents page. Firstly, you see the grayed out logo on the left, leading to an interesting alternate in page layout as the contents are displayed via elongated images that are linked to the pages they relate to and by clicking you can jump straight to that page.
The next example comes from HB Handbags a mail order company, click on the image below to launch this e-catalog.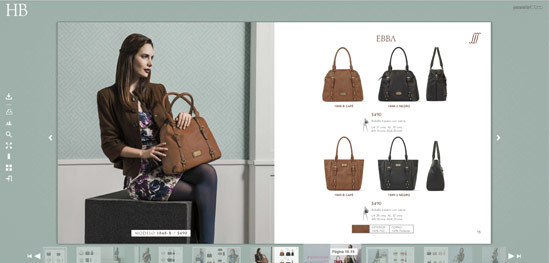 This catalog has had over 80,000 views. This shows the extent that marketing products online with an e-cataolg can garner. What is eye-catching about this catalog is the keen eye for detail that the designers took when creating the digital publication. They have matched a subtle patterned background image to act as a backdrop for the catalog which enhances the esthetic. See a video tutorial here on how to add your own custom background.
Below are some varying examples of e-catalogs:
1. Marvel's costume and accessories catalog:
2. Nike sportswear e-catalog enhanced with video
3. Snooze is an Australian bed company that have customized the intro area of their e-catalog to their own instructions
If you would have a PDF and would like to create an e-catalog simply email info@3dissue.com for some expert advice on how to get started.
By Audrey Henry