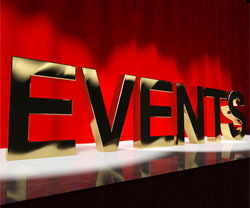 Time, a small four letter word that is precious to us all. It can seem that there is never enough of it at times (no pun intended!); it can feel that even if you doubled the hours in the day you would still need more. This is particularly true in the life of a marketer; the advent of social media has further exasperated this lack of time rather than cut it down. Many a golden opportunity has been missed due to time management issues and disorganization.
Organization and time management are crucial for any event marketing campaigns success; mistakes will always be made, we are, after all, only human but if we could whittle those mistakes down by implementing tools that save us time and cut back on the volume of work we have to get through, wouldn't that make everything that bit easier? Wouldn't that leave you more time to make the decisions that really count? Wouldn't that allow you some breathing space to step back and take stock and ensure that oh so important facet of your marketing campaigns, facets that could separate your campaign from average to great, would not slip through the net?
This is precisely the basis of today's blog, we are going to look at some tools that will free up your precious time and ensure that no opportunity or deciding factor goes unnoticed because your time had unnecessarily been taken up elsewhere, when it could have been better utilized making the decisions that count.
Hootsuite
Hootsuite is a social aggregation tool that works with all the major social platforms including Google +, Facebook, Twitter and LinkedIn to schedule your postings meaning you don't have to spend alld ay every day worrying about when to post and for who. A great tool which features analytics
Buffer
Buffer is a social aggregation tool in the vein of Hootsuite above, easily navigated and boasting analytical tool, some of which are free.
Mail Chimp
A great tool for automated email campaigns, Mail Chimp allows you to import your email contacts, construct campaigns and build auto responses. This platform really is a time saver and well worth a look.
IFTTT
IFTTT (If this then that) allows you to automate a broad range of marketing activities. You can set up the platform to take action once certain situations are triggered, for example when you add a new blog a tweet will automatically be generated and sent. A very useful addition to the marketer's arsenal.
Hubs
On average, companies use 13 different online platforms to promote and engage with their readers but don't have a single location where their audience can access that content. 3D Issue allows you to centralize all your content into responsive mobile applications instantly and create interactive flipbooks from your existing PDFs suitable for every device and platform to increase engagement.
3D Issue Hubs collects and centralizes your online marketing content and converts it into stunning mobile web applications that can be viewed on any desktop, tablet, eReader or SmartPhone. 3D issue collects content from premium social platforms such as Twitter, Facebook, LinkedIn, Google+, Instagram and YouTube. Your readers can also push content through these platforms through comments and sharing options.
Hubs can revolutionize the way you create, curate, share and reach out with your content, it is estimated that up to 40% of web traffic is now through mobile devices, superseding fixed internet access for the first time ever. In no other walk of life would you ignore 40% of your business opportunities, so why would you do it online?