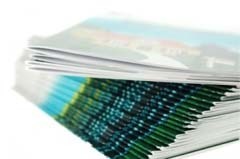 As well as using 3D Issue to create digital marketing brochures, catalogues and product information sheets, have you considered going digital with other areas of your marketing material? We've put together a few ideas below…
Monthly Newsletter
Do you have a monthly or weekly newsletter that you send to your customer base? By converting this newsletter into a digital edition you can drive traffic to your site to view the online digital newsletter. This newsletter can contain multimedia that makes the newsletter more engaging to your audience as well as the added benefit that the reader analytics can be tracked and analysed to see how effective the newsletter was.
Customer Testimonial Brochure
Many companies are asked to send examples, case studies and testimonials to back up sales proposals or quotes. Consider collating these case studies and testimonials to create a unique testimonial publication, giving your prospect the information they require in a professional, accessible format. If your customers fall into different sectors then create a unique testimonial digital edition for each sector. As you can upload multiple or single pdfs into 3D Issue to convert – collating these brochures can be a quick process.

Customer Presentations
Tired of PowerPoint? Stand out by converting your presentations into digital format. You can simply save your PowerPoint presentation as a pdf, upload to the 3D Issue software and add your interactivity.  Your digital presentations will have the page turning effect, can include videos, audio and hyperlinks and be viewed online so a customer can view at a personalised url address (by calling the file by the customer name for example) at a time that suits them.
Sales proposals
Sales proposals as a digital edition can transform the static pdf proposals into an edition that can include multimedia videos and links to further related information such as associated product brochures and customer case studies.
Have you created a unique 3D Issue for another use? Feel free to share in the comments below!
By 3D Issue