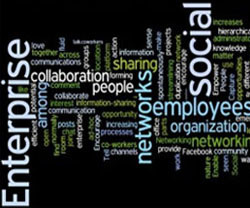 Humans are social beings, so assuming they don't want to regularly engage with their coworkers and supervisors to some degree wouldn't be exactly right.
The improvement of the Internet access and the increased usage of mobile devices allow us to connect with people from all around the globe in innovative ways.
This affects the workforce market too making it easier for companies to have offices in different continents and countries.
Thanks to the enterprise social networking, companies have found an easy way to connect their international and local employees, create a feeling of belonging and at the same time create a platform that encourages knowledge sharing.
Here are some of the ways enterprise social networking will change the way your company operates on daily basis:
Give Employees a Chance To Express Themselves
A good way for employees to connect with the company and with each other, is to create a platform were they can share their opinions, their ideas, as well as keep up to date with the latest developments and news of the company.
Hubs and apps like the ones eBay has created for his employees are becoming more and more popular among international and local companies. These platforms help create a sense of community which indirectly encourages the employees to work harder and be happier at their workplace.
The advantage of apps like this is that you can create different sections and categories, you can even create an app that contains both global and local information clearly classified, so people can find what they're interested in, in just a few seconds.
Try to engage with your employees and start weekly threads like "Wednesday Wins", "Monday Mishaps" or "Throwback Thursday", create hashtags and encourage your employees to use them etc. At the beginning you'll have to be the one that starts the conversation, but in time it would be them on their own keeping the platform active.
If you treat your employees well and manage to make them feel respected and appreciated, they will respond with an increased engagement and higher productivity. They will actually care for the success of the company as a whole.
Engage With Freelancers
In the dynamic environment we're working on freelancers are becoming an important part of the workforce for many organizations.
Freelancers are often hired for certain projects such as the creation of a new logo. They are usually tasks and projects that aren't required often and that don't require for the person to be in the office for example. Hiring a freelancer is usually cheaper than externalizing the service to another company and they are usually more flexible too.
If you make them part of your community, if they have access to your hub or app, not only will it be easier for them to capture the essence of your business and transmit a better image of your brand, they will also feel part of the team.
Their relationship with other members of the team will improve and they will learn more about the company and its corporate culture.
Build Your Knowledge Base
When employees have access to a platform where they can share everything they want, your and your team's overall knowledge about what's going on every day in the company will improve.
You've employed people that know how to solve problems in certain areas but not all of them, encourage them to share that knowledge with the rest, so you can create a knowledge base that will be useful for everyone.
Increased Productivity
Building your knowledge base means that in the future problems will be solved more easily if they reoccur, reducing the time your employees spend solving problems. Time they'll be able to use for other more productive tasks.
They're happy because they can be more effective during they working day, and you're happy because their productivity will increase.
Conclusion
By using an enterprise social network you're building an environment where employees can share their opinion and be active members of a knowledge sharing community, you're creating a sense of belonging and making your employees feel part of your brand and care about your company.
Enterprise social networking is the future of employee retention as it's a employee centered strategy.
If you want information about how enterprise social networking could help your business or want to know which is the best way for you to implement it in your company, you can send us an email to info@3dissue.com.