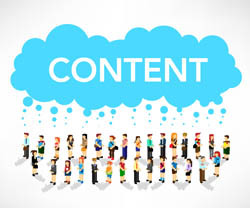 Content. This is a word that we can't get enough of, good content that is. The modern day world is full of content, so much so that we encounter content on every step during our normal day to day lives; it is everywhere we look, on our PC's, smartphones and tablets. Content is spreading even further into our everyday lives, Google's soon to be released self-driving car, house alarms connected to the internet, sensor mats to place under baby's mattresses, wearable devices to monitor our health, the list is endless. The one thing they all have in common is data and content. Today, we have over 10 billion connected objects in the world and by 2020; this is predicted to rise to 50 billion.
It's clear that content is, and will continue to play a huge role in our lives and the same is true for business, business has always been a content centric world. Every single day, content abounds from every corner; so much so that it can be a monumentous task on its own to keep track of it far less distribute it through the appropriate channels. Take the average salesman in a company, they are selling a product, their customers expect them to know the product inside out, which most do, but consumers also expect them to know about their competition, their strengths and weaknesses and their field of expertise in general. Wouldn't it be a great boon to the salesman to have this knowledge at their fingertips at any given time? What about if they could create or curate their own content to aid them in their sales pitch?
Research shows that your customer is 60% through the buyer's journey before reaching out to brands for help on available options. So, most of their research is already done. Therefore you need to focus on influencing that consumer make the decision that favors your product. So how do you do this if the consumer has already made their minds up by the time that they reach your site or review your product? Content publishing.

Enterprises are quickly taking up the mantle when it comes to this type of content publishing, they know that by creating and curating content they are creating far more than a one off sale. They realize that their content will 'live on', long after the sale has transpired. The content they use has an infinite life span and will be around when the next possible consumer does an online search leading them to the content they have created. A company has many levels but all levels are geared towards the one goal, to be successful. Why not then, create a tool that gathers, publishes and shares all the thoughts and discoveries by all these different levels within the company to be used for the common good of the business? A sales person may stumble across data that the marketing department find very interesting and vice versa.
"The whole is greater than the sum of its parts."
This famous quote by Aristotle could have been written solely for the subject in hand. There are many sources of content, and many devices that the content can be viewed upon. This makes it imperative that whatever solution you use for publishing your content has to be accessible to people both within and outside of your organisation on whatever device they may favor to use. Companies that do this form of content publishing well are generally the most successful in terms of attracting new customers and retaining the ones they already have.
Today's consumers want to be informed with well thought out and relevant information, they want to be engaged prior to the sale of your product, the fact is, most prospective consumers already know before they visit your site whether they are going to buy or not. The curation and supply of relevant content is a way of reaching out to the consumer beforehand with information and solutions that will ease them along the path of investing in your product.
This type of enterprise content publishing can and should encompass all the senses, it doesn't have to be solely words on paper, make it come alive, invigorate the senses. Use audio and video to stimulate the ears and the eyes, reach out through every available channel, be accessible through any device at any time.
Try 3D Issue Content Hub for free today and watch as the publishing of your content within your enterprise comes alive.