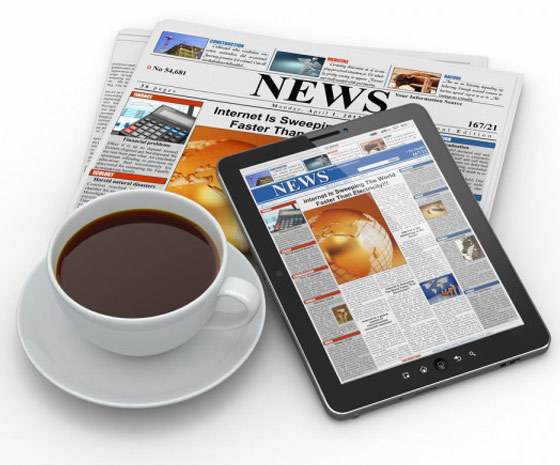 Digital publishing can offer a wide range of benefits to the online audience; one of them is the possibility to enjoy your digital newspaper anytime and anywhere!
Our blog today deals with the digital newspaper sector and the reasons why media companies also have good reasons to be overjoyed.
The Sun Newspaper asserts that since going behind a paywall, it has attracted 792,994 unique browsers on average each day in June 2015. They are happy with this initial traffic and anticipate that numbers will continue to increase.
Some of the highlights in this updated report include the following:
While the Sun' online readership are impressive, they are far behind some of the other news giants; Mail Online remains the most-read newspaper website online, with more than 14 million unique browsers, up 4.7% on June, while the Guardian.com increased its audience by just over 3% to pass 8 million.
During July, the Telegraph attracted more than 4.5 million browsers a day, surpassing the Mirror group's national titles after an 11% increase in visitors.
Other information from the article sights that the Express attracts 1.3 million browsers a day and the Star's audience just pushing over the 1 million mark for the first time.
Making news content digital:
Let's remember that readers are increasingly turning to smartphones and tablets for media and news so companies now must produce content in digital form to attract these readers, be it through the creation of digital newspapers, News Hubs or News Apps. For any information on how to go about creating any of the aforementioned content types please email: info@3dissue.com or check the info on this home page.
What factors are involved in the success of online newspapers?
See this blog outlining the benefits and features that be entertaining for readers with a digital newspaper.
Undoubtedly, the practicality and accessibility provided by the digital newspapers online are key aspects that ensure the widespread adoption of this new habit that suits the lifestyle of many digital readers.
Likewise, the creativity of digital media companies to integrate their online newspaper with social networks and the possibility to download apps to view editions can be efficient tools to provide the digital readers with a unique reading experience – keeping the look and feel of a real newspaper!
By Audrey Henry