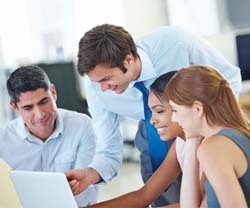 The Internet is filled with content; pages upon pages of content. If the internet is an engine then the content within is the fuel that drives it. It is the very lifeblood of the online domain, brands and companies have long realized the importance of premium quality content in regard to attracting eyeballs and creating engagement with the consumer. So all you have to do is create engaging content and the consumer will come to you, right?
Well technically this is correct but the difficult part is actually creating said content, creating high quality, original content isn't easy and continuing to do so on a regular basis can seem like a nigh on impossible task but it's not, nothing is impossible, sometimes you just have to take a step back and avoid being overwhelmed by the task in front of you.
This is a subject that is close to many businesses and companies core strategies and as such will form the basis of today's blog where we will try and help you in your goal of creating engaging content, I hope you find it of some help in your quest to create engaging content and to attract more consumers than ever before.
1. Multimedia and interactive features
Make your content bigger, richer and brighter. Supplying content that your audience can watch or look at can dramatically increase their interest in your offerings, when you consider two-thirds of the world's mobile data traffic will be video by 2016 (Source: Cisco) and the fact that posts with videos attract three times as much traffic as those without (Source: VFM Leonardo Inc) then this is a section of content creation that you should be giving serious consideration.
2. Quality content is what your client wants to read, not what you want to tell them
It can be very easy to fall into the trap of supplying your readers with content about your company updates and news only. There is nothing wrong with keeping the consumer updated on the latest news from within your realm but also ask yourself, what are the articles you are reading each day? What is of interest to you, as an industry expert? What are the things clients need your services for?
3. Look outside your sphere for inspiration
Tap into the content that surrounds your niche, much of what inspires you will also inspire the consumer and, will crucially come from those within and around your field.
4. Make use of the connections you already have
Your current customers and users are a great place to look for inspiring and creative ideas. These users and consumers can be an amazing source of honest opinions and ideas. Reach out and dip into this goldmine of suggestions and feedback.
5. Your content doesn't always have to be about you
Many large corporations are following this approach; instead of talking about their products and what it is that is great about them, they are instead telling a story which reaffirms a belief and underlines the values and mission of your company. Companies are establishing emotional connections through the humanization of their content which in turn maximizes the potential of your content. Coca Cola and John Lewis are great examples of this approach.
No one said that creating engaging content would be easy but we feel that by following the above steps in correlation with ensuring that the content itself is available across all devices, another crucial element of content consumption in today's smartphone and tablet driven world, will give your content the best possible chancer of higher rates of engagement and success.
Have you tried out Hubs as a means of centralizing and accentuating your content creation methods?
Why not see what Content Hubs can do for you, and crucially, your content.