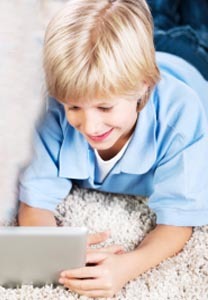 A new literacy is emerging, one that will equip the next generation for the media and devices of the future. There is a huge potential for educational apps and interactive e-books both as a market for publishers and as a resource for parents and educators. I know as educators we all agree that reading should never be solely digital but there is no denying the fact that it is becoming more commonplace in schools everywhere.
A recent study by the Digital Book World shows that 54% of kids age 2-13 are reading ebooks – more than double the number of adults. Of those, 85% read digital books at least once a week, and they use tablets more than any other device. These children read a combination of regular and enhanced ebooks.
Interestingly, the study shows that more boys have taken to ebooks, while fewer girls reported being consistent readers because they often switch to other online activities. In summary 1) ebooks are a means to attract boys, who traditionally lag behind girls in reading; and 2) given their internet connectivity, tablet reading leads children to other activities (texting, playing games) that should be closely managed. Click here to view the iEAR(I Educational Apps Review) listing of 50 Popular iPad Apps For Struggling Readers & Writers. Click here for a list of apps that can be used for digital storytelling in the classroom.
ePub3, maintained by the IDPF, is the current standard for eBooks. It is a new industry standard file format, allowing customers to enjoy embedded media and interactivity within the book itself when viewed on compatible Android tablets and smartphones The market is maturing and more and more hardware vendors are supporting it. It is very well supported by Apple's iBooks app for iOS devices and some desktop and mobile eReaders. Recently Sony Reader Store Launched Kids Corner to Support EPUB3.0 Content.  This is a dedicated shopping section that offers illustrated and enhanced children's content.

Educational publishers around the world are choosing 3D Issue software to convert their publications into interactive e-books and dedicated reading apps, turning flat two dimensional content into to create a more engaging reading experience for young minds.
By Linda Daly