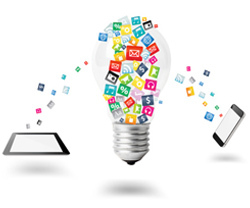 Every morning I go to my inbox and I switch on the computer and load my email and start the process of drudging through my emails, trying to separate the junk emails from the important emails. As a manager, I normally have a couple of hundred to plough through each day and this would be normal for any of the decision makers that you are trying to promote your content / products to.  So how do you get a greater click through efficiency in this ever increasing overpopulated channel.
Here's 5 steps that we follow:
1.     Personalized the title
What I tend to do is select all, review and deselect the important ones and then delete all,  to do this, I quickly go through the subject heading and judge which are relevant.  If in doubt I look at the email address but normally all it takes is the subject header.  So you have a small single line to make your impact.  One technique is to personalize the email by including their name.
" Hi Paul,  heres what's been happening this month"
Whenever someone see that their name is in the email it's instant authentication.
2.     Mobile
40% of your audience will access your content on a mobile device.  You must ensure that your content is optimized for mobile platforms. In web design there is a rule that for every second that it takes to deliver / load your content you lose 50% of your audience.  The same rule would apply here.  Make sure that your content loads quickly and is accessible.

3.     Responsiveness
One of the best ways to ensure that your content loads quickly is to ensure that your content is presented in a responsive template. With responsive layout,  your content will automatically change to suit the resolution of the device that your reader chooses to consume the content on.  If you aren't familiar with responsive web programming, don't worry there are tools like Hubs that can do this for you automatically.
4.     Simple
Keep your design simple.  Remember it has to load quickly.  Keep the design simple, on a white background with minimal template graphics. Remember that the important part is the content not the design.  In design there is a golden rule called KISS (keep it simple stupid!).
5.     Relevant content
Ensure that your content is relevant.  Make sure that you are providing content that will be consumed by your audience.  We provide our readers with news that relates to their industry. Some of the articles that we provide are our own but we also link to third party content to ensure that we are providing our audience with news that is relevant to their market.  We believe that by providing our audience with a full scope of what is happening in the market we are establishing ourselves as a thought leader and a reliable medium in that market. Image from the nice folks here.