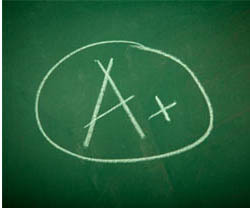 To be sure of the widest possible reach, many schools and colleges are going mobile with their marketing, communication and publishing efforts. University pamphlets, college prospectus guides, college sporting events programs, school magazines, alumni event guides, society newsletters, presidential reports, annual reviews. They have all moved online in varying degrees.
Some started out as pdf versions of the printed material but others transitioned to HTML5 versions quickly, which are more easily read on the mobile and tablet devices. They also allowed for the integration of video and audio files, thereby enhancing the engagement level. Others still, have taken it one step further and are available today as an app. This lets the reader download the material and read it off line on their preferred device.
In doing so all these options have ensured the reading material itself is social. Articles and papers can be easily shared through the most popular social networks at the click of a mouse. They can even be read within a Facebook page, where many of the student community hang out.
Let's take a look at a few different educational samples of different ways in which college marketing material is moving online.
1. College Corporate Material distributed to a wider audience
This sample illustrates how one college took their president's report and made it available for a wider audience on html5. The Annual Review is another example, an important part of all College collateral. The articles within can be shared via different social platforms such as Twitter, Facebook and Pinterest.
2. Formal and Informal Publications on campus
Take a look at these various samples, spread right across campus, engaging many aspects of student life: course prospectus, an alumni magazine, promotional brochure, sorority magazine, store catalog, college sports promotional material and new student's guide. Look out for integrated photo galleries and use of embedded video throughout.


3. School Handbooks available as apps to read offline.
Oxford Brookes University have made their Observe magazine as well as various other handbooks and course prospectus available through apps that enable the reader to download the magazines and read it in their own time on an Apple or Android tablet or phone. Learn more through this YouTube video.
4. School Prospectus viewable via an app in a Facebook page
Forward-thinking Oxford Brookes University have also made their publications available to read within the context of their Facebook page where the reader can browse the text without leaving the social environment
5.  Medical Journal available as a branded app
JUCM have created an app, reflecting their own branding which enables them to distribute their free journal through the most popular app stores, iTunes and GooglePlay. Check it out! What a great way to distribute material which can be updates centrally without running another print job.
By Linda Daly