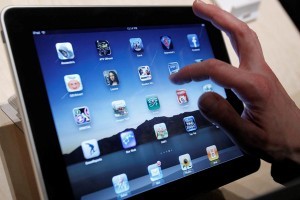 This blog deals with a sector that will more than likely introduce significant changes through technology. Thus, the educational system is planning to incorporate further the use of tablets in the classrooms in a near future.
According to Mashable.com, the government, book publishers and the technology industry are considering a large-scale effort to push tablets into public schools. Some of the companies interested to take part of this project are Apple, Intel and McGraw Hill representatives
In what ways can the use of tablets benefit the educational sector?
According to advocates the main reasons to use tablets in classrooms are
• Cost savings
• Improving learning
According to the FCC (Federal Communications Commission), the U.S. spends about $7 billion per year on textbooks, but many of them are seven to ten years out of date. "The FCC based its $3 billion cost savings estimate on the assumption that today's tablet cost of $250 each will drop to $150 as schools buy tablets in bulk, hardware gets cheaper and technology advances." Source: Mashable
The use of tablets could also benefit the learning process according to some researches. Publisher Houghton Mifflin Harcourt tested an interactive, digital version of an Algebra 1 textbook  Apple's iPad in California's Riverside Unified School District. The results were very encouraging as students who used the iPad version scored 20 per cent higher on standardized tests. This article (Mashable) also reports that students with special learning needs may offer the most concrete evidence of the benefits of tablets in the classroom.
On the other hand, some experts are not so optimistic about this move. Some research states that students are better able to remember what they read in printed books long-term when compared to materials read via an electronic screen, raising questions about tablets in the classroom.

What does this mean for the digital publication?
Mashable.com points out that a small but growing number of researchers are uncovering evidence that Tablets' success in replacing text books will also come down to educational apps. As a result, companies such as Apple, Google and others can benefit from the opportunity to create millions of educational apps for schools.
Likewise, a joint report by McKinsey and the GSMA predict the m-Education market could be worth $70 billion globally by 2020 and predicts demand for m-education devices, like smartphones and tablets, may be worth another $32 billion by the same timeframe. Source: Mashable
In summary, this article shows the growing relevance of digital technology not only at present but also in the future. So, it is relevant to work on strategies to make the most of the new opportunities that digital technology can offer for your publications.