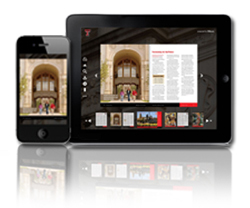 Every education publisher knows that its biggest growth opportunities are
• digital products and services
• expansion into global markets
• efficient investment in its content-based enterprises
(like books and journalism).
Each of them are working on end-to-end solutions: not just textbooks and testing, but software-based learning delivery platforms. They invest in highly interactive platform-specific apps and basic, cross-platform e-textbook standards and they invest in Apple.
While going digital gives digital educational publishers the opportunity to add more and more, increasingly complex, illustrations and content, there is a practical limit defined by cost rather than capacity. Simply, if it takes the digital educational publisher a long time to create data files, animations and illustrations, then costs can escalate. In practice, it remains essential to consider what information needs to be imparted, and which of these new digital media are best for imparting it, before diving in to the exciting worlds of animation, illustration software and multimedia.
Companies such as Pearson , Oxford University Press and Mc Graw Hill are amongst many educational publishers who have taken a muti-pronged approach in their digital educational publishing strategy. All three companies have invested in digital publishing software for the education sector to enable them to catalogue their ever growing banks of material and publish them across all known digital devices. They also use the same software to develop resources for the K-12 education publishing market, developing interactive video and audio enhanced books for maths and language development in this sector.

"3D Issue has provided OUP Australia & New Zealand with a highly production- and user-friendly product. Australia is such a vast and extreme country, and 3D Issue has helped us widen our market reach by providing cross-platform solutions for both offline and online delivery, from small marketing and promotional brochures to 700+ page publications."
Oxford University Press
Learn more about how digital publishing software can help the education publishing sector here.

By Linda Daly